PSALMS 119:89-90
For ever, O LORD, thy Word is settled in Heaven. Thy faithfulness is unto all generations . . .
As the July 4 weekend approaches I always find a mix of emotions swirling in my heart and mind. While I rejoice over the great gift of freedom we have as Americans, I also recall the year when my mother lay dying. Instead of celebrating our nation's independence, I was praying for God to set her free from the bondage of sickness, disease, and dementia. God answered that prayer on July 6, 1998 so today marks the 10th anniversary of her death. May I share with you some thoughts that I shared at her funeral?
Ecclesiastes chapter 3 says that there is a time to mourn and a time to rejoice. We've come today to do both of those things. We mourn the loss of one whom we loved very much; yet we rejoice because of a life well lived and because we know that today Mom is resting in the arms of Jesus.
I will always be grateful for these last seven years because when my parents moved to Pennsylvania it gave me a chance to spend time with them in ways that I had not been able to since we left for the mission field in 1973. These last three years she lived in a nursing home where she won the hearts of all the nurses and staff with her gentle spirit and sweet smile. The word that describes these last few months with her would be "sweet" –just "sweet." During our visits she looked at me often and said, "We had good times, didn't we? We had good times." I nodded in agreement.
We sat and reminisced, talking of her childhood and growing up in Tennessee. She remembered years and family times in Michigan– birthday celebrations, holidays, and the excitement of grandchildren coming along. Over and over again my mother recalled the faithfulness and goodness of God throughout her lifetime. She mentioned repeatedly how He blessed us, cared for us, and always met our needs.
Even without all the self-helps books available today, Mom and Dad managed to balance love and trust and discipline in just the right mix as parents. They taught both of their children the meaning of commitment and they demonstrated how to be caring, giving people. They also taught us to work hard, to trust God, and to follow Him. I will never forget, especially when Tim and I were preparing to go to Africa years ago, hearing Mom say repeatedly, "You know, the safest place in the world is in the center of God's will. You can be sure He will take care of you if you're following Him." Those words come back to me often as I travel life's journey.
The last thing my mother said to me was in response to my words to her. As she lay there in the hospital, virtually unable to speak, I looked at her and said, "We had good times, didn't we?" She replied as well as she could, "Oh yea," and she smiled.
So today while we weep at the loss of this loved one, even more we thank God for the good times and for His faithfulness throughout her entire life. We look back saying yes, she worked hard; she trusted God and she followed Him. What a heritage she and our father left us! She certainly could say, "I've fought a good fight and I've kept the faith" and that faith kept her right to the end. Now as I think of my mother, I recall the good times and I remember especially the faithfulness of God.
Loving God, I thank you for sweet memories of one who taught me so much.
©Copyright Ann Shorb, 2008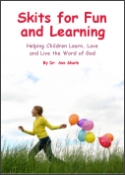 Skits for Fun and Learning
Skits for Fun and Learning is a collection of 15 puppet scripts and 5 articles on the subject of success with puppet ministries. The articles and scripts have been written by Dr. Ann Shorb and the book is available for purchase as a paperback, or as a PDF download.