JOSHUA 1:9 (NKJV)
Have I not commanded you?  Be strong and be of good courage; do not be afraid, nor be dismayed, for the Lord your God is with you wherever you go.
Do you remember when you were a youngster and you played Hide and Seek?  Remember how one person would hide his eyes and then count "5-10-15-20-25-30-35-40" all the way up to 100 while the other children ran and hid?  Then you would hear that one person say, "Ready or not, here I come!"  And there he came, looking for everyone else!
Today we start a new year.  Ready or not – here it comes!  There's no way we can stop the passing of time, and with each new year comes a great deal of uncertainty.  There will be new technology, unexpected challenges, and rapid changes in every area of our lives.  As we think of all these uncertainties and the possibilities that come to us as individuals and as families, there's a lot we could worry about.  But remember, you are not alone—the Lord promises to go with you each step of the way.
The pages of Scripture are full of God's promises and stories about God's presence going with His children through all of their tough times.  In Joshua 1:9 God promised His people that He would go with them as they entered an unfamiliar and frightful land and faced the difficulty of fight enemies to take possession of that territory.  And He did.
In Hebrews 13:5, Paul reminded the New Testament believers that God promised, "I will never leave you nor forsake you."
Look at the promise Christ gave to His followers in Matthew 28:20, "Fear not for lo I am with you always, even to the end of the age."  God promises to be an ever-abiding, ever- strengthening, ever-providing presence with His people always.
Yes, the new year is here – ready or not–and the presence of God goes with you each month, each week, each day, each hour, each minute, each second!  You do not walk alone if you know Christ as your Savior.  He promises to go with you every step of the way.  Now that's comfort, and you can say, "Come on, New Year!  I'm ready!"

Precious Lord, what a joy and a thrill it is to enter a new year knowing that You are by my side. Thank You that as I look back over the last year I see Your faithfulness in walking with me through every day and I recall the sweet fellowship we've shared, even in the dark times.  Thank You for that assurance that this year will be just another step in our journey together.
By Ann Shorb
©Copyright 2011, Ann Shorb
Scripture taken from the New King James Version. Copyright © 1982 by Thomas Nelson, Inc.  Used by permission.  All rights reserved.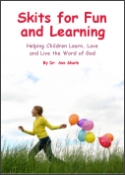 Skits for Fun and Learning
Skits for Fun and Learning is a collection of 15 puppet scripts and 5 articles on the subject of success with puppet ministries. The articles and scripts have been written by Dr. Ann Shorb and the book is available for purchase as a paperback, or as a PDF download.