EPHESIANS 5:18, 19, 20 (NKJV)
. . . be filled with the Spirit . . . singing and making melody in your heart to the Lord, giving thanks always for all things to God the Father, in the name of our Lord Jesus Christ.
Knowing that regularly expressing gratitude produces so many benefits (see The Benefits of Being Grateful), wouldn't it be wise for each one of us to make that a habit? Shouldn't we be practicing thankfulness every day?
As with anything, if you want to improve in an area, you need to perform that skill over and over again. That involves a conscious choice and intentional action. So if you want to practice thanksgiving, make the choice to look for God's blessings and express your appreciation for them—and then do it!
Start each day by asking the Lord to help you be aware of the blessings He gives you. Find ways that make you mindful of the good things you see and experience throughout the day, so you don't get caught up in busyness and worry and lose sight of God's goodness. Here are several ideas to help you with that.
From time to time, make a Gratitude List of things for which you are thankful. Write down as many things as you can think of in one minute. Keep the list handy, and begin your prayer time by reading it and telling the Lord how grateful you are for each item you listed. Be sure to actually name them one by one as you talk to Him.
Make an ABC List of Blessings. Find at least one blessing beginning with each letter of the alphabet. For example:
A-Angels to watch over me
B-Bible
C-Children
Keep your list handy and read through it often to remind yourself how blessed you truly are.
Set the alarm on your watch or cell phone to ring every hour. When it goes off, stop what you are doing, and find something around you for which you can be thankful. Practice seeing God's goodness all around you wherever you are at any given time.
Find hymns and choruses that express thankfulness to the Lord. Sing one song each morning to start your day. Sing it again at night before going to bed as you recall God's goodness to you that day.
Keep a Gratitude Journal in which you write three things each day for which you are grateful.
And remember last week's challenge? Following Charles Swindoll's suggestion, I encouraged you to keep the attitude of thankfulness alive through the four-week period between our Thanksgiving holiday and Christmas. Each week focus on a different season of this year, starting with spring, and recall the blessings that you received during that period. Then, express your gratitude in praise and worship to the Lord. By Christmas, you'll be well on your way to developing the on-going practice of gratitude.
As you practice thankfulness more and more, I guarantee that you will increase your joy and decrease anxiety and worry. Let gratitude so invade your spirit that it becomes a part of every hour of every day, and eventually it will become your way of life.
PRAYER: Heavenly Father, the blessings you pour into my life each day are incredible! I thank you for each one. Let me never lose sight of Your goodness.
WORDS TO PONDER: "Gratitude is not only the greatest of virtues, but the parent of all the others."
–Marcus Tullius Cicero (106 B.C – 43 B.C.), Roman philosopher, writer and leader
RELATED DEVOTIONALS:
RELATED HYMNS:
By Ann Shorb
Copyright Ann Shorb, 2014
Scripture taken from the New King James Version. Copyright © 1982 by Thomas Nelson, Inc.  Used by permission.  All rights reserved.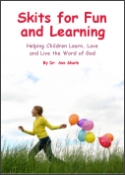 Skits for Fun and Learning
Skits for Fun and Learning is a collection of 15 puppet scripts and 5 articles on the subject of success with puppet ministries. The articles and scripts have been written by Dr. Ann Shorb and the book is available for purchase as a paperback, or as a PDF download.