PSALM 139:14
I will praise Thee; for I am fearfully and wonderfully made: marvelous are Thy works; and that my soul knoweth right well.
When I picked up the phone a few days ago, I heard a familiar voice say, "Happy anniversary, Mom. I think I'll have a present for you by the end of the day." And indeed she did. On our 38th wedding anniversary, our daughter gave birth to our first little grandson, Grady Michael.
Up until then, our anniversary was a day to look back and remember the beautiful ceremony, our vows and commitment to one another, the family and friends who joined us, and the lovely dress that I can no longer squeeze into. Now that date is marked as a time to look forward, to hope, to dream, to pray for the new little guy who has joined our family.
How exciting to know that the very God who created this tiny little masterpiece, so perfectly formed and fashioned, has a specific plan and purpose for his life. As I held him and prayed over him, I marveled at the thought that God has already placed within this little child the potential to learn, and grow, and become a man of God and a servant of the King.
We've had a lot of nice anniversary gifts over the years, but none so special as this. I can say without a moment of hesitation that having a new grandchild is our best anniversary present ever!
Great Creator, thank You for the new life that You brought to our family. Bless Grady Michael, his parents, and his sisters. May they know Your joy and Your peace abundantly as they walk with You.
By Ann Shorb
© Copyright Ann Shorb, 2009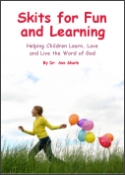 Skits for Fun and Learning
Skits for Fun and Learning is a collection of 15 puppet scripts and 5 articles on the subject of success with puppet ministries. The articles and scripts have been written by Dr. Ann Shorb and the book is available for purchase as a paperback, or as a PDF download.