JOHN 20:19-20
Then, the same day at evening, being the first day of the week, when the doors were shut where the disciples were assembled, for fear of the Jews, Jesus came and stood in the midst, and said to them, "Peace be with you." When He had said this, He showed them His hands and His side. Then the disciples were glad when they saw the Lord.
From the time they first saw Jesus, each disciple knew there was something special about Him. The more they focused on Him, the more he enabled them to do the impossible, and empowered them to live above fear. We see this so vividly portrayed on the day the disciples saw Jesus walking across the water toward the boat where they were. As soon as Peter saw that it was the Lord, he enthusiastically jumped out of the boat and miraculously walked on the water toward Jesus. But the moment Peter moved his focus from Jesus to the raging waves around him, fear set in and he began to sink. Then Jesus reached out and rescued His fearful follower. As long as his eyes were on Jesus, Peter was fine, but with a shift of focus he went from confident to cautious, and from secure to scared.
So it was with the disciples after the resurrection. Their focus had been on Jesus and setting up His kingdom on earth. They talked of it, planned for it, preached about it—and probably even dreamed of it at night. But when Christ died, those hopes and dreams were shattered. Their focus turned to their immediate surroundings and what would become of them since their beloved leader was gone. Fear, doubt and confusion grabbed hold of them and they hid from people. Then the risen Christ appeared in the room where they gathered, and it only took one look at Him for their hope to be restored. The Gospel of John tells us, "Then the disciples were glad when they saw the Lord." Their purpose and passion were renewed and their hope was restored. They were empowered again!
It's so easy in this fast-paced, faltering world to get distracted and move our focus off of Christ and onto our immediate surroundings. Natural disasters, weakening economies, political unrest, and personal failures and frustrations stir up fear and anxiety within us. One look at our powerful, risen Savior brings it all back into proper focus. Jesus is alive! He is victorious over all of life's uncertainties and tragedies. Our hope is in Him and our victory is certain! Rejoice and be glad!
Heavenly Father, when my eyes wander to the circumstances surrounding me, please turn my head back toward the empty tomb and the risen Savior. Then I will find peace and strength, hope and joy.
By Ann Shorb
©Copyright Ann Shorb, 2011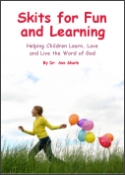 Skits for Fun and Learning
Skits for Fun and Learning is a collection of 15 puppet scripts and 5 articles on the subject of success with puppet ministries. The articles and scripts have been written by Dr. Ann Shorb and the book is available for purchase as a paperback, or as a PDF download.