Exodus 33:14
And He said, My presence shall go with thee, and I will give thee rest.
In preparation for the arrival of the new year, last December 31, I encouraged each of you to prayerfully find and claim a specific promise from God's Word for 2007. I suggested that you write that verse on cards and place them where you would easily see them and read the verse daily, and even memorize it, if possible. Some of you told me that you did that at the beginning of the year. So how did you do in the months that followed?
My year held more surprises than I could ever have imagined. Some of them were good, and some of them were heartbreaking, but the thing that kept me going was the promise God gave to me at the beginning of the year. It's the promise of His continual presence written in Exodus 33:14.
It's easy to start out the year hanging on to a resolution or a particular promise and then let it slip by the wayside, but displaying that verse in highly visible places keeps that promise right where you can grab hold of it whenever you need it. And don't forget that keeping a written journal of the ways God uses that verse in your life throughout the year will help you remember a multitude of blessings, and you will see the faithfulness of your loving heavenly Father week after week. The good news is that even if you fail to be consistent in turning to God's promise for strength and comfort, He never fails or falters in keeping His promises.
I'd love to hear from any of you that carried out this exercise this year, even if it didn't last all year. Please send your stories to annshorb@ccesonline.com.
Another new year is right around the corner. Why not take some time in these next few days to ask God to give you a special promise for 2008? Let it be a source of hope, strength, comfort, and assurance as you face whatever this new year brings.
HAPPY NEW YEAR! MAY YOU FIND GOD'S JOY AND PEACE EACH DAY IN 2008.
Father, as I start this new year, please equip me with the sword of Your Word that will help me be victorious in living for Jesus a life that is true.
By Ann Shorb
Copyright Ann Shorb, 2007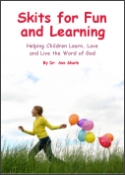 Skits for Fun and Learning
Skits for Fun and Learning is a collection of 15 puppet scripts and 5 articles on the subject of success with puppet ministries. The articles and scripts have been written by Dr. Ann Shorb and the book is available for purchase as a paperback, or as a PDF download.