LUKE 1:46
And Mary said, My soul doth magnify the Lord and my spirit hath rejoiced in God my Savior.
Can you imagine what young Mary must have thought and felt when she was minding her own business and one day an angel from the Lord appeared to tell her that she had been chosen to bear the long-awaited Christ-child, the Messiah?  The words from this unexpected visitor not only changed her life completely, but it changed the entire world!
No doubt Mary knew the stories of the Old Testament and she knew the promises God had given to His people.  She must have remembered His words after Adam and Eve sinned and His promise to send a Savior to redeem His people (Genesis 3:15).  I'm sure the message of Isaiah 7:14, Behold, a virgin shall conceive, and bear a son, and His name shall be called Immanuel, must have swirled through her thoughts as she pondered what the angel told her.
Knowing and believing these promises, Mary's response was remarkable, she graciously accepted her assignment and she rejoiced!  Although there might have been fear and doubts, and questions, we read that in the weeks following the angel's visit, Mary sang, My soul doth magnify the Lord and my spirit hath rejoiced in God my Savior.
Because of her faith in the promise of God and in the God of the promise, Mary responded to the angel's message with submission, with joy and with trust.  Oh, for a faith like that!  My prayer for you and for myself this Christmas season is that our faith will increase so that no matter what our circumstances we'll be able sing as Mary, My soul doth magnify the Lord and my spirit rejoices within me.
May I be among the first to wish you a Merry Christmas.  Have a blessed holiday season!  Happy rejoicing!
Sovereign Lord, may I be like Mary and respond to Your direction for my life with submission, rejoicing and trust.
By Ann Shorb
©Copyright Ann Shorb, 2008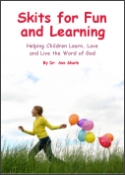 Skits for Fun and Learning
Skits for Fun and Learning is a collection of 15 puppet scripts and 5 articles on the subject of success with puppet ministries. The articles and scripts have been written by Dr. Ann Shorb and the book is available for purchase as a paperback, or as a PDF download.