LUKE 2:8-18 (KJV)
And there were in the same country shepherds abiding in the field, keeping watch over their flock by night. And, lo, the angel of the Lord came upon them, and the glory of the Lord shone round about them: and they were sore afraid. And the angel said unto them, Fear not: for, behold, I bring you good tidings of great joy, which shall be to all people. For unto you is born this day in the city of David a Savior, which is Christ the Lord. And this shall be a sign unto you; Ye shall find the babe wrapped in swaddling clothes, lying in a manger. And suddenly there was with the angel a multitude of the heavenly host praising God, and saying, Glory to God in the highest, and on earth peace, good will toward men. And it came to pass, as the angels were gone away from them into heaven, the shepherds said one to another, Let us now go even unto Bethlehem, and see this thing which is come to pass, which the Lord hath made known unto us. And they came with haste, and found Mary, and Joseph, and the babe lying in a manger. And when they had seen it, they made known abroad the saying which was told them concerning this child. And all they that heard it wondered at those things which were told them by the shepherds.
My Christmas Prayer
Lord, like the shepherds let me be,
Who kept their watch so faithfully,
With diligence and constant care
Performed the task before them there.
Lord, like the shepherds let me hear
A word from Thee fall on my ear,
And may Thy glory 'round me shine
To know Thy presence all divine.
Lord, like the shepherds let me run
Rejoicing in the Promised One,
With hearts believing when they heard
That this small babe was Christ the Lord.
Lord, like the shepherds let me be,
Once having caught a glimpse of Thee,
With great rejoicing take Thy Word
To share with those who have not heard.
Oh, like the shepherds let me speak
And point men to the Hope they seek.
Lord, use my life that I may be
A faithful shepherd serving Thee.
By Ann Shorb
©Copyright, Ann Shorb, 2016
RELATED DEVOTIONAL: The Carol of the Angels
NEW BIBLE STUDY STARTING IN JANUARY 2017!
MAKING PEACE WITH YOUR EMOTIONS: Living Life to the Fullest
Tuesdays, 9:30 to 11:00 A.M.
January 3-March 28, 2017
Held at First Baptist Church, 217 Fulton St., Hanover, PA 17331
Wouldn't life be easier without all the tumultuous feelings we experience? One moment we can be completely happy and the next find ourselves confused, lonely or devastated. Are our feelings something to be ignored, overcome, or just accepted?
In this Bible study, we will explore the stories of 12 Bible characters who expressed raw emotions. We will learn to handle negative emotions in healthy, godly ways, and gain an appreciation for the gift of emotions that God has given us.
EVERYONE WELCOME!
A donation of $10 is requested for materials and refreshments
Registration is required.
Please contact CCES: 717-630-2255.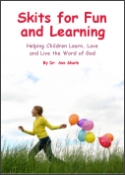 Skits for Fun and Learning
Skits for Fun and Learning is a collection of 15 puppet scripts and 5 articles on the subject of success with puppet ministries. The articles and scripts have been written by Dr. Ann Shorb and the book is available for purchase as a paperback, or as a PDF download.