2 Chronicles 7:14
If My people who are called by My name will humble themselves, and pray and seek My face, and turn from their wicked ways, then I will hear from heaven, and will forgive their sin and heal their land.
Memorial Day—the very name suggests a time to pause and pay tribute to someone or something that used to be. In this case, we set aside time to honor those who fought and died for our country. But does their sacrifice really mean anything to me? Oh, yes, I'm grateful for their commitment, and I appreciate the freedom I have in America, but do I treat that freedom as a precious gift given by those heroes—one that I value and esteem so much that I will do what I can to care for and protect it?
While there are monuments and museums throughout the country that depict famous battles and pay tribute to military heroes, I firmly believe that the greatest way I can honor those who have unselfishly paid for my freedom is not to build greater monuments or erect taller statues. It's not to write more poems or sing louder songs to their praise. Although these are certainly noble marks of respect, as an ordinary citizen, my greatest means of paying homage to those who fought and died is to do my part to preserve the morals and values on which this country was founded.
Knowing that the greatest nations in history all met their demise not by external defeat, but by internal moral decay, I understand that much of the battle for our strength and freedom will be won or lost within our own borders. While I cannot fight on foreign soil, fly a fighter jet, or crawl across the desert sands to protect my country, I can live a life of moral purity. And I can teach and encourage others to do the same. Indeed, I can a stand for truth and righteousness as I live a life of integrity.
In addition, I can pray for those in positions of leadership as well as those who currently serve in our military and their families. I can pray for and support those who previously served and returned home with life altering physical or mental disabilities.
If we as Christians would live each day reflecting the life and legacy of the Lord Jesus Christ, then each day we would honor those who fought and died for the United States of America, and truly every day would be Memorial Day.
Lord, although I'll never serve in my country's military forces, please use me to preserve this great nation as I seek be conformed to Your image day by day, and to live in truth and righteousness.
By Ann Shorb
Copyright Ann Shorb, 2017
Scripture taken from the New King James Version. Copyright © 1982 by Thomas Nelson, Inc. Used by permission. All rights reserved.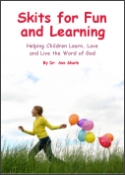 Skits for Fun and Learning
Skits for Fun and Learning is a collection of 15 puppet scripts and 5 articles on the subject of success with puppet ministries. The articles and scripts have been written by Dr. Ann Shorb and the book is available for purchase as a paperback, or as a PDF download.