LUKE 8:15 (NKJV)
Then Mary said, "Behold the maidservant of the Lord! Let it be to me according to your word." And the angel departed from her.
One of the things I love so much about the Christmas season is the joyful sound of the carols. I never tire of hearing them and singing the beautiful message of the coming of the Christ child.
The first one to sing about this wonderful event was Mary, the mother of this Child. Her song is recorded in Luke 1:46-53. The angel of the Lord appeared to Mary, a young virgin living in Nazareth, and announced joyfully that she was chosen to bear the Savior of the world. Although Mary knew the promises of God to send a Redeemer to His people, she questioned the angel as to how it could be, that she should bear this One. His words reassured her. Then Mary's submissive response came without hesitation—"Behold the maidservant of the Lord! Let it be to me according to your word."
Graciously accepting the news from Gabriel, Mary then traveled to visit her cousin Elizabeth. As they rejoiced together over God's amazing work, Mary sang, "My soul doth magnify the Lord and my spirit hath rejoiced in God my Savior." Her entire song reflects her belief in the message of the angel and the promise that God would bless His people by sending His Son to save them. I believe Mary sang with sincerity, submission, great enthusiasm and joy!
Isn't it amazing that when Mary surrendered to God's plan, her soul was filled with wonder, awe, and joy? While there may have been fear and confusion on some level, His peace outweighed them all and her soul could not keep silent. There's a principle here that we see repeatedly throughout history. In the life of the one who truly trusts God, submission always leads to a song of rejoicing. Oh, it may not be sung audibly, but rejoicing fills the heart and spills into every area of life. Truly, a word of surrender fills the heart with song.
Thank You, Lord, for Mary's example that teaches me so clearly that submission always leads to song.
By Ann Shorb
Copyright Ann Shorb, 2017
Scripture taken from the King James Version of The Holy Bible.
More Christmas Devotionals: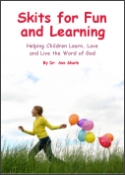 Skits for Fun and Learning
Skits for Fun and Learning is a collection of 15 puppet scripts and 5 articles on the subject of success with puppet ministries. The articles and scripts have been written by Dr. Ann Shorb and the book is available for purchase as a paperback, or as a PDF download.