2 CORINTHIANS 5:14-15 (NKJV)
For the love of Christ compels us, because we judge thus: that if One died for all, then all died; and He died for all, that those who live should live no longer for themselves, but for Him who died for them and rose again.
Last weekend we celebrated Easter. Perhaps since then you haven't given the death, burial, and resurrection of Christ much thought. After all, the holiday is over and the new week brought other things to deal with and think about; but let's never forget that the resurrection of Christ should motivate us to live every day for Him. This is the very heart of our Christian faith and must become our way of life.
The death of Christ was His sacrificial payment for our sin debt; the resurrection was God's sign of acceptance of that payment. It not only provides for us eternal life in Heaven with God the Father, God the Son, and God the Holy Spirit after we die, it also assures us of victory over the power of sin in this present life. Christ died and rose again so that we do not have to live bound by the chains of regret, sorrow, isolation, and loneliness that result from living in selfishness and sin. Instead, through surrender of our will and obedience to His direction, we can successfully resist temptation, confidently walk in faith, and joyfully serve others. What wonderful rewards come from living in the power of the resurrection!
Thomas O. Chisholm captured this idea beautifully in his hymn, "Living for Jesus":
Living for Jesus a life that is true,
Striving to please Him in all that I do;
Yielding allegiance, glad hearted and free,
This is the pathway of blessing for me.
Now, let's do a mental check . . . What have you done this week to live for the risen Lord? Has your life reflected His victory over death, hell and suffering? Have you reached out to others and touched their lives the way He did both before and after His death? Have your thoughts and words been honoring and pleasing to the loving, living Lord Jesus Christ?
Remember, the victory and joy of the resurrection wasn't intended to last for just a day or a weekend. God wants us to live in that joy day by day, and we do that by living to please Him. This is not bondage, my friend. This is true joy!
Lord Jesus, let me be constantly aware that You give to me victory and joy as I live for You.
by Ann Shorb
© Ann Shorb, 2012
Scripture taken from the New King James Version. Copyright © 1982 by Thomas Nelson, Inc.  Used by permission.  All rights reserved.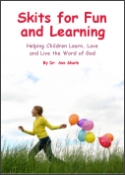 Skits for Fun and Learning
Skits for Fun and Learning is a collection of 15 puppet scripts and 5 articles on the subject of success with puppet ministries. The articles and scripts have been written by Dr. Ann Shorb and the book is available for purchase as a paperback, or as a PDF download.