Matthew 5:16
Let your light so shine before men, that they may see your good works, and glorify your Father which is in heaven.
Famous Bible teacher J. Vernon McGee wrote, "Being a light means giving out the Word of God in one way or another. This doesn't mean that you should be quoting Scripture all the time, but it does mean that you are to share the light that God has given you. It is very easy to cultivate some person, then quietly and graciously introduce them to a Bible-teaching church or radio program. There are many ways in which you can be light in the world."
It's been a long time since Dr. McGee wrote those words and although he is no longer living on this earth his message is still true and accurate. It's necessary to have that quiet, personal relationship with God, but you must also live openly in such a way that others may see actions that show God's love and goodness and bring Him praise. That's what letting your light shine is all about.
The holiday season is nearly here, starting with Halloween on October 31. This time of the year provides you with multiply opportunities to let the light of God shine through you. There are various opinions as to how Christians in the U.S. should handle Halloween. Rev. Rod Hemphill has written a thought-provoking article for our website examining various possibilities in light of the Word of God.
Yes, let your light shine! Live daily showing others that God is good. Dr. J. Vernon McGee concludes, "And in the present age, in this lost world in which you and I live today, our prime motivation should be to bring glory to God. This is something that every Christian should consider very seriously. The aim and purpose of our lives should be to glorify our God."
Blessed Father, give us Your wisdom and direction, strength and courage each day to do things that will show others that we belong to You. May our lives reflect Your love for them and bring You praise.
By Ann Shorb
Copyright Ann Shorb, 2007
Quotations from Thru the Bible with J. Vernon McGee, Thomas Nelson Publishers, 1983.
Rev. Rod Hemphill's article Halloween: Spoof, Spooked or Spiritual Service is available on our website and also in PDF format. The article provides an in-depth look at a Christian's involvement in Halloween traditions. If you work with youth in the church, be sure to read this article. Also, feel free to print it and share it with friends.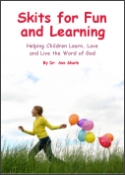 Skits for Fun and Learning
Skits for Fun and Learning is a collection of 15 puppet scripts and 5 articles on the subject of success with puppet ministries. The articles and scripts have been written by Dr. Ann Shorb and the book is available for purchase as a paperback, or as a PDF download.