PHILIPPIANS 2:5-8 (KJV)
Let this mind be in you, which was also in Christ Jesus: Who, being in the form of God thought it not robbery to be equal with God; But made Himself of no reputation, and took upon Him the form of a servant, and was made in the likeness of men; And being found in fashion as a man, He humbled Himself, and became obedient unto death, even the death of the cross.
It happened right here in York County, Pennsylvania, but the story is being told in news reports all over the country! On Friday, November 27, someone carefully and purposefully wrapped a South African gold Krugerrand coin worth nearly $1,200 in a one dollar bill and placed it in the Salvation Army collection kettle as a donation to help the needy.  What an act of loving kindness, generosity and unselfishness! The local newspaper reports that even several days later, Major Lurlene Mudge of the York citadel said, "Everyone is still talking about it."
Two thousand years ago, our loving Heavenly Father carefully, purposefully wrapped His only Son in human flesh and placed Him in a manger as a gift to help the needy.  God knew our desperate situation as sinners who could not save ourselves and He sent us a Savior, Christ the Lord. In great humility and true obedience to the Father, Christ lived and died that we might be free from the penalty, the power, and eventually the presence of sin. This was truly the ultimate act of loving kindness, generosity and unselfishness!
As we celebrate this Christmas season, may we never forget nor take for granted the true value of the marvelous gift God gave when He sent us His Son. Let us faithfully share the good news with those around us by singing carols, sending cards and notes, passing out tracts, sharing scripture, and talking openly of His wondrous love. Let's use Christmas to help others find the Lord Jesus Christ. Let's talk about Him!
Beloved Father, thank You for the unfathomable outpouring of Your love when You gave us Jesus. Help me to continually share this valuable gift with others.
By Ann Shorb
©Copyright Ann Shorb, 2009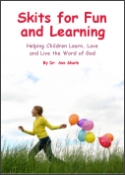 Skits for Fun and Learning
Skits for Fun and Learning is a collection of 15 puppet scripts and 5 articles on the subject of success with puppet ministries. The articles and scripts have been written by Dr. Ann Shorb and the book is available for purchase as a paperback, or as a PDF download.