HAPPY MEMORIAL DAY!
DANIEL 6:10 (NKJV)
Now when Daniel knew that the writing was signed, he went home. And in his upper room, with his windows open toward Jerusalem, he knelt down on his knees three times that day, and prayed and gave thanks before his God, as was his custom since early days.
Our traditional way of celebrating this Memorial Day holiday is to display the American flag, wear red, white, and blue, and have a picnic, but how about doing something a bit different this year? Why not celebrate with prayer throughout the day? Daniel, an Old Testament hero, gave us the perfect example. He routinely paused to pray three times every day.
In the morning, perhaps at breakfast, take the time to thank the Lord for the thousands and thousands of men and women who have served in our country's military forces in years gone by. Praise Him for their sacrifice of time and energy in serving, and their great contribution to winning our freedoms and keeping our country safe.
In the middle of the day, give thanks for those who are currently a part of our armed forces. Pray for their safety and protection. Ask God watch over and bless their families as well, and to give wisdom to our government and military leaders. Ask Him to touch their hearts and cause them to look to Him for wisdom, direction, and courage to stand for truth.
Finally, in the evening at dinner or perhaps at bedtime, pray for our future leaders, the upcoming elections, and the young men and women who will one day be a part of our country's defense forces.
Many of you reading this live outside of the United States of America so your holidays are different than ours, but you can celebrate as well. No matter where you live, there have been, and currently are, men and women who have had a positive influence on your country, your community, and your own life. Thank God for them and honor them. Pray that you, too, will be used by God to touch the lives of those around you as you live for Him.
Let's make this Memorial Day a true celebration of remembrance, thanksgiving and prayer!
PRAYER: Heavenly Father, as we pause to celebrate the blessings of our nation, let us be ever mindful that these wonderful gifts have all come from You.
WORDS TO PONDER: "It is the duty of all nations to acknowledge the providence of Almighty God, to obey His will, to be grateful for His benefits, and humbly to implore His protection and favor."
–George Washington, First President of the United States
RELATED DEVOTIONALS:
By Ann Shorb
©Copyright, Ann Shorb, 2016
Scripture taken from the New King James Version. Copyright © 1982 by Thomas Nelson, Inc.  Used by permission.  All rights reserved.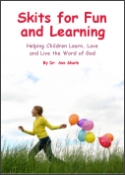 Skits for Fun and Learning
Skits for Fun and Learning is a collection of 15 puppet scripts and 5 articles on the subject of success with puppet ministries. The articles and scripts have been written by Dr. Ann Shorb and the book is available for purchase as a paperback, or as a PDF download.