MATTHEW 1:20-21 (KJV)
Behold, an angel of the Lord appeared to him in a dream, saying, "Joseph, thou son of David, fear not to take unto thee Mary thy wife: for that which is conceived in her is of the Holy Ghost. And she shall bring forth a son, and thou shalt call his name JESUS: for he shall save his people from their sins."
When Joseph of Nazareth wrestled with the decision of whether or not to marry his betrothed because she was carrying a child that was not his, an angel came to him one night in a dream, bringing a message from God. The angel's words clearly directed the young man to take Mary as his wife because the child was divinely conceived by God. The angel not only gave this humble carpenter the assurance that he needed, but he gave him an announcement, "You shall call his name JESUS: for he shall save his people from their sins."
Having long practiced the Old Testament ritual of sacrificing a perfect lamb as an offering to atone for their sins, Joseph and his people were keenly aware that their sins separated them from God's favor. They knew they needed a means to rid themselves of sin. They knew they needed a Redeemer.
God didn't send a carpenter to help them build better houses, or a politician to rule over them. He didn't send a scientist to do research, or a teacher to educate them. He sent them a Savior to forgive their sins, for that was their deepest need. That's our deepest need, too. The assurance of God's plan and the announcement of the arrival of the Messiah convinced Joseph to follow God's direction. Is it enough to cause us to do the same and turn to Him as our Redeemer and Lord?
PRAYER: Precious Jesus, how amazing that You would come from the glories of Heaven and live as a human on earth so that You could become the sacrificial Lamb–the payment for our unrighteousness! Our hearts bow with gratitude before You to thank You for Your gift of love.
WORDS TO PONDER:
One Day
One day when Heaven was filled with His praises,
One day when sin was as black as could be,
Jesus came forth to be born of a virgin,
Dwelt among men, my example is He!
Living, He loved me; dying, He saved me;
Buried, He carried my sins far away;
Rising, He justified freely forever;
One day He's coming, oh, glorious day!
–John Wilbur Chapman, 1859-1918
RELATED DEVOTIONAL: "Joseph's Message From The Angel, Part 1"
Copyright Ann Shorb, 2015
Scripture taken from the New King James Version. Copyright © 1982 by Thomas Nelson, Inc.  Used by permission.  All rights reserved.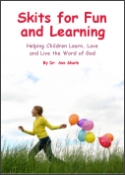 Skits for Fun and Learning
Skits for Fun and Learning is a collection of 15 puppet scripts and 5 articles on the subject of success with puppet ministries. The articles and scripts have been written by Dr. Ann Shorb and the book is available for purchase as a paperback, or as a PDF download.