MATTHEW 1:20-21 (KJV)
Behold, an angel of the Lord appeared to him in a dream, saying, "Joseph, thou son of David, fear not to take unto thee Mary thy wife: for that which is conceived in her is of the Holy Ghost. And she shall bring forth a son, and thou shalt call his name JESUS: for he shall save his people from their sins."
Imagine being in Joseph's shoes! Having chosen a lovely young virgin to wed, he anticipated the day he could actually take her as his bride. To find out she was already carrying a child within her that wasn't his must have rocked his world. Dismay, doubt, fear, confusion–the thoughts and feelings he experienced had to have been overwhelming.
Graciously, God the Father sent an angel with a message that was clear and straight to the point. As Joseph slept, the messenger spoke right to the heart of his concerns by saying, in essence, "Joseph, don't be afraid to marry this girl for the child was divinely conceived, and has a special mission. He will save His people from their sins."
When Joseph awoke, comfort and peace must have swirled through his confusion and doubt as he considered the words of the angel. It was a message directly intended for him, and yet for all of Israel, and even for us today. This was a word from the Lord assuring that this event was divinely orchestrated by the Almighty in fulfillment of ancient prophecy. The child within Mary was the long-awaited Messiah coming to save a nation and establish the Kingdom of God.
God knew Joseph's fears and He gave him clear assurance. God knew Israel's waywardness and He gave them a Redeemer. God knew your sin and mine and He gave us a Savior named Jesus. Let us rejoice greatly and give highest praise for His great Provision as we celebrate this Christmas season!
PRAYER: Heavenly Father, You always know our needs. You know everything! And You have everything it takes to meet those needs. Thank You for giving us Your only beloved Son, Jesus Christ to be our Savior.
WORDS TO PONDER:
Hark! The Herald Angels Sing
Hark! the herald angels sing,
"Glory to the newborn King;
Peace on earth, and mercy mild;
God and sinners reconciled."
Joyful, all ye nations rise,
Join the triumph of the skies;
With angelic hosts proclaim,
"Christ is born in Bethlehem!"
Hark! the herald angels sing,
"Glory to the newborn King!"
–Public Domain
Copyright Ann Shorb, 2015
Scripture taken from the New King James Version. Copyright © 1982 by Thomas Nelson, Inc.  Used by permission.  All rights reserved.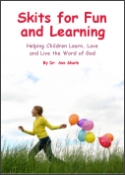 Skits for Fun and Learning
Skits for Fun and Learning is a collection of 15 puppet scripts and 5 articles on the subject of success with puppet ministries. The articles and scripts have been written by Dr. Ann Shorb and the book is available for purchase as a paperback, or as a PDF download.