LUKE 22:41 (KJV)
And He was withdrawn from them about a stone's throw, and He knelt down and prayed.
One of the most amazing things about the events surrounding the death of the Lord Jesus Christ is His final prayer in the Garden of Gethsemane (John 17). There, in the midst of all His agony over what He knew was coming, Jesus prayed for you.
He prayed for Himself:
Father, the hour has come. Glorify Your Son, that Your Son also may glorify You.
Then He prayed for His disciples:
Holy Father, keep through Your name those whom You have given Me, that they may be one as We are . . . that they may have My joy fulfilled in themselves . . . that You should keep them from the evil one . . . Sanctify them by Your truth.
And when He had prayed for these disciples, Christ actually prayed for you and for me:
I do not pray for these alone, but also for those who will believe in Me through their word; that they all may be one, as You, Father, are in Me, and I in You; that they also may be one in Us, that the world may believe that You sent Me . . . Father, I desire that they also whom You gave Me may be with Me where I am, that they may behold My glory which You have given Me . . . that the love with which You loved Me may be in them, and I in them.
In his book, The Angels Were Silent, Max Lucado puts it this way:
"The final prayer of Jesus was about you. His final pain was for you. His final passion was for you. Before He went to the cross, Jesus went to the garden. When he spoke with his Father, you were in his prayers . . . ."
Blessed Father, I am in awe when I think that in the hour of His greatest need, Christ remembered me, spoke of me, and pleaded for me. Let me never doubt His love for me.
By Ann Shorb
Scripture taken from the New King James Version. Copyright © 1982 by Thomas Nelson, Inc. Used by permission. All rights reserved.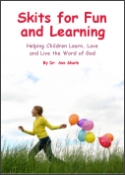 Skits for Fun and Learning
Skits for Fun and Learning is a collection of 15 puppet scripts and 5 articles on the subject of success with puppet ministries. The articles and scripts have been written by Dr. Ann Shorb and the book is available for purchase as a paperback, or as a PDF download.