ISAIAH 1:8 (KJV)
Come now, and let us reason together, saith the LORD: though your sins be as scarlet, they shall be white as snow; though they be red like crimson, they shall be as wool.
The year was 1865 and the Civil War had just ended.  All across the nation homes and hearts grieved, torn apart by the death of loved ones who paid the ultimate price for freedom.  Across the nation people began to see the reality of the cost of war.  So much had been paid.
One Sunday morning, Elvina Hall sat quietly in the Monument Street Methodist Church in Baltimore, MD surveying the congregation, noticing the empty seats of men who never returned from the war. Grief, sorrow and gratitude for their sacrifice mingled silently in her heart, as she listened to her pastor preach from Isaiah 1:8. Suddenly her focus moved from the great price American soldiers paid to the incredible sacrifice of Christ made in order to purchase her salvation.  He left His Heavenly home, descended to earth, lived among men, and suffered an agonizing death in the cruelest of ways.  In that moment she recognized just how much she owed Him for paying the complete debt of her sin.
Elvina quickly jotted down her thoughts as they gushed from her mind almost faster than she could write.  In that instant, God gave to her the words of a song that has become one of the most beloved hymns of all times—"Jesus Paid It All."  Read the words and meditate on their deep meaning:
I hear the Savior say,
"Thy strength indeed is small;
Child of weakness, watch and pray,
Find in me thine all in all."
For nothing good have I
Whereby Thy grace to claim,
I'll wash my garments white
In the blood of Calvary's Lamb.
And now complete in Him
My robe His righteousness,
Close sheltered 'neath His side,
I am divinely blest.
Lord, now indeed I find
Thy power and Thine alone,
Can change the leper's spots
And melt the heart of stone.
And when before Thy throne
I stand in Him complete,
"Jesus died my soul to save,"
My lips shall still repeat.
Refrain:
Jesus paid it all,
All to Him I owe;
Sin had left a crimson stain,
He washed it white as snow.
At this Easter season, may this song remind you of the incredible price the Lord Jesus Christ paid for your salvation, but rejoice in the fact that what He gained on the cross was more than He lost.
Precious Savior, although my mind cannot fully comprehend all that You went through to purchase my salvation, I thank You for paying the price—the complete price—for my redemption.
By Ann Shorb
© Ann Shorb 2010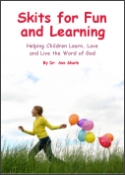 Skits for Fun and Learning
Skits for Fun and Learning is a collection of 15 puppet scripts and 5 articles on the subject of success with puppet ministries. The articles and scripts have been written by Dr. Ann Shorb and the book is available for purchase as a paperback, or as a PDF download.