ISAIAH 53:5 (NKJV)
But He was wounded for our transgressions,
He was bruised for our iniquities;
The chastisement for our peace was upon Him,
And by His stripes we are healed.
Knowing our need for a Savior, God spoke to His people through His prophets and delivered promises of a coming Messiah who would rule the world with great power and peace. Among many names in scripture, He is called The Christ, Redeemer, King, and Savior of the World.
We first see this One promised in Genesis 3:15 after Adam and Eve disobeyed God by eating the fruit of the forbidden tree. God pronounced the consequences of their sin, and at the same time promised a Redeemer who would overcome the bondage of Satan.
In Isaiah 9:6 the Redeemer is called "Wonderful, Counselor, Mighty God, Everlasting Father, Prince of Peace."
Isaiah 53 pictures the Christ as the "suffering servant" and the atoning sacrifice for the sins of those who will turn to Him.
Micah 5:2 speaks of a deliverer who would come out of Bethlehem "to rule Israel; whose goings forth have been from of old from everlasting".
We see the coming Savior foreshadowed by the life of Joshua who led God's people out of the wilderness and into the Promised Land.
Symbolically God spoke of the divine sacrificial Lamb through the sacrifices and offerings He required in worship.
It's extremely clear as you read the Old Testament books that the coming of the Lord Jesus to be the Savior of the world was no accident. In fact, all of Scripture points to the fact that His coming was part of a perfectly orchestrated plan.
It was intentional.
And I will put enmity
Between you and the woman,
And between your seed and her Seed;
He shall bruise your head,
And you shall bruise His heel.
–Genesis 3:15
It was calculated.
But when the fullness of the time had come, God sent forth His Son, born of a woman, born under the law, to redeem those who were under the law, that we might receive the adoption as sons.
–Galatians 4:4-5
It was motivated by our deep need and God's great love.
For God so loved the world that He gave His only begotten Son, that whoever believes in Him should not perish but have everlasting life.
–John 3:16
No, the coming of Christ was no accident, no mishap, no mix-up. It was planned and prepared before the world began (II Timothy 1:9). Imagine that! Before God ever said, "Let there be light," His heart of love had already arranged our redemption. It was indeed an intentional, calculated gift of love from a gracious Father to a lost and dying world.
PRAYER: It overwhelms me to think, Lord, of just how much You knew I would need You, and how precisely Your plan for my salvation was laid out. "Thank You" seems so inadequate but I say it now with all my heart.
WORDS TO PONDER:
"Come, Thou long-expected Jesus,
Born to set Thy people free;
From our fears and sins release us;
Let us find our rest in Thee."
–Charles Wesley (1707-1788)
By Ann Shorb
©Copyright Ann Shorb, 2013
Scripture taken from the New King James Version. Copyright © 1982 by Thomas Nelson, Inc.  Used by permission.  All rights reserved.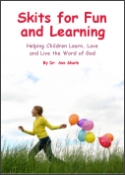 Skits for Fun and Learning
Skits for Fun and Learning is a collection of 15 puppet scripts and 5 articles on the subject of success with puppet ministries. The articles and scripts have been written by Dr. Ann Shorb and the book is available for purchase as a paperback, or as a PDF download.