HAPPY MOTHER'S DAY!
MARK 7:25-26, 29 (NKJV)
For a woman whose young daughter had an unclean spirit heard about Him, and she came and fell at His feet.  The woman was a Greek, a Syro-Phoenician by birth, and she kept asking Him to cast the demon out of her daughter . . .  Then He said to her, "For this saying go your way; the demon has gone out of your daughter."
How many prayers does a mother pray in a lifetime? How many times does she go before the Throne of Grace and seek God's blessing on her children? How many words does she offer in silence as she breathes a prayer for their protection or watches her children as they slumber?
The prayers of a mother change throughout the lifetime of her child. From the moment she knows there is a life within her, a mother normally feels a connection to that child, and a desire to protect and provide for him/her. Her prayers turn to joyful praise upon the arrival of that tiny baby, and as the infant grows, so do the mother's prayers.
She prays for protection, health, provision, and direction. Later she prays for schooling and friendships. And as the child matures, Mother prays for wisdom and strength for herself–and on certain days she asks for an extra measure of grace, and patience!
How sad when a mother must stand and watch as her child chooses a path of destruction rather than one of life and health. Often in those frightful days and fearful nights, a mother's prayers intensify because she knows that praying is all she can do.
In Mark 7:24-30, we find a story about an amazing mother who, although she was a Gentile and was considered unclean by the Jews, dared to approach and petition the Lord Jesus Christ to heal her daughter. Her prayer was motivated by fear for her child and trust in the Lord. It was rooted in faith and grounded in His reputation. It was persistent and intense, yet offered in sincerity and spoken with humility. Truly this was the prayer of a loving mother. Her example reminds us that even when circumstances are against us, Christ is always there to hear and respond to a mother's prayers–no matter how many prayers she prays.
Prayer: Heavenly Father, thank You for the privilege of praying for our children, and for their children, too.
Words to Ponder: "The loveliest masterpiece of the heart of God . . . is the heart of a Mother."
–St. Therese of Lisieux
By Ann Shorb
©Copyright, Ann Shorb, 2014
Scripture taken from the New King James Version. Copyright © 1982 by Thomas Nelson, Inc.  Used by permission.  All rights reserved.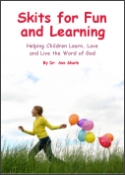 Skits for Fun and Learning
Skits for Fun and Learning is a collection of 15 puppet scripts and 5 articles on the subject of success with puppet ministries. The articles and scripts have been written by Dr. Ann Shorb and the book is available for purchase as a paperback, or as a PDF download.