PSALM 30:5 (NKJV)
For His anger is but for a moment,
His favor is for life;
Weeping may endure for a night,
But joy comes in the morning.
My heart was thrilled when I saw the neighbors' yard filled with robins the other day. It was a sure sign that spring is on the way. For this year, the worst of the cold, dark winter season has passed, and the best is yet to come! There is hope in the air; I can just feel it—hope for longer days and shorter nights, for brighter sunshine and warmer temperatures, for gorgeous flowers, green trees, and new life.
The changing seasons aren't limited to the physical world around us, though. We experience them within us, as well. If you find yourself in the darkness of a spiritual, mental, emotional or physical winter season, remember this is but a season. This, too, shall pass. The intense pain and difficulty of poor health, financial distress, grief from the loss of a loved one or a broken relationship won't always be this bad. For the believer in Christ, there is always hope, and knowing that keeps us from being stuck in the winter seasons of life.
It's comforting to read words of reassurance from the Bible:
Psalm 31:24 (NKJV)
Be of good courage,
And He shall strengthen your heart,
All you who hope in the LORD.
Psalm 42:11 (NKJV)
Why are you cast down, O my soul?
And why are you disquieted within me?
Hope in God;
For I shall yet praise Him,
The help of my countenance and my God.
Psalm 71:14 (NKJV)
But I will hope continually,
And will praise You yet more and more.
Jeremiah 17:7 (New King James Version)
" Blessed is the man who trusts in the LORD,
And whose hope is the LORD.
Lamentations 3:26 (NKJV)
It is good that one should hope and wait quietly
For the salvation of the LORD.
Let the hope of a coming new season help carry you through difficult times. In spite of hardships and heartaches, may His praise be on your lips and His unshakeable joy in your heart.
Our Loving Lord, thank You for not leaving us in the cold, dark winter seasons of life, but for giving us the joy that comes as we hope in You.
By Ann Shorb
©Copyright 2011, Ann Shorb
Scripture taken from the New King James Version. Copyright © 1982 by Thomas Nelson, Inc.  Used by permission.  All rights reserved.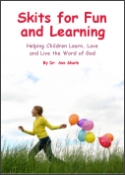 Skits for Fun and Learning
Skits for Fun and Learning is a collection of 15 puppet scripts and 5 articles on the subject of success with puppet ministries. The articles and scripts have been written by Dr. Ann Shorb and the book is available for purchase as a paperback, or as a PDF download.