JEREMIAH 33:3
Call to me, and I will answer you, and show you great and might things, which you do not know.
Entering a new year can be exciting! It offers a fresh new start and the opportunity to cast off old, unwanted habits and behaviors, and develop new ways–but, the uncertainties of what lies ahead can also be rather frightening and intimidating. That can rob you of your joy unless you remember and rely upon the promises of God.
Here are just a few of the things God promises that can encourage you as you journey forward in this new year:
"I know the way."
O LORD, I know the way of man is not in himself; It is not in man who walks to direct his own steps.
The steps of a good man are ordered by the LORD, and He delights in his way. Though he fall, he shall not be utterly cast down; for the LORD upholds him with His hand.
–Jeremiah 10:23 and Psalm 37:23-24
"I will go with you."
Fear not, for I am with you . . .
Isaiah 41:10
"I will direct you."'
Trust in the LORD with all your heart, And lean not on your own understanding; In all your ways acknowledge Him, And He shall direct your paths.
–Proverbs 3:5-6
"I will take care of you."
Even to your old age, I am He, and even to gray hairs I will carry you! I have made, and I will bear; even I will carry, and will deliver you.
–Isaiah 46:4
"I will never leave you."
The LORD, He is the one who goes before you. He will be with you. He will not leave you nor forsake you.
–Deuteronomy 31:8
In past years, I've urged you, our readers, to prayerfully ask God to give you a special Bible verse that will anchor and encourage you throughout this year. Once again, I put that challenge before you, and I also suggest that you keep a journal of ways the Lord uses this verse in your life in the days ahead. I guarantee it will be a tremendous blessing as you see His faithfulness, love, and grace each step of your journey.
PRAYER: Holy God, Your promises hold me up when I'm weak, give me strength when I'm weary, help me focus when I'm confused, and cheer me on when I'm discouraged. Thank You for being my always-caring, ever-faithful, loving Heavenly Father who always keeps His promises!
WORDS TO PONDER: "God's Book is a veritable storehouse of promises–over seven thousand of them. Not empty hopes and dreams, not just nice-sounding, eloquently worded thoughts that make you feel warm all over, but promises. Verbal guarantees in writing, signed by the Creator himself, in which he declares he will do or will refrain from doing specific things.
In a world of liars, cheats, deceivers, and con artists, isn't it a relief to know there is Someone you can trust? If he said it, you can count on it.
Unlike the rhetoric of politicians who promise anybody anything they want to hear to get elected, what God says, God does.
–Charles Swindoll, The Finishing Touch
RELATED DEVOTIONALS:
By Ann Shorb
©Copyright, Ann Shorb, 2017
Scripture taken from the New King James Version. Copyright © 1982 by Thomas Nelson, Inc.  Used by permission.  All rights reserved.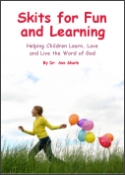 Skits for Fun and Learning
Skits for Fun and Learning is a collection of 15 puppet scripts and 5 articles on the subject of success with puppet ministries. The articles and scripts have been written by Dr. Ann Shorb and the book is available for purchase as a paperback, or as a PDF download.