MATTHEW 22:37-38 (NKJV)
You shall love the Lord your God with all your heart, with all your soul, and with all your mind. This is the first and great commandment.
"Hosanna! 'Blessed is He who comes in the name of the Lord!' The King of Israel!" the people shouted as Jesus entered Jerusalem that day. They were excited for at last their promised King had come! Waving palms and hailing Him as their Messiah, the crowds went wild, but in just a few short days their praise would turned to jaunting and the crowed that honored Him would rejected Him. Knowing all of this was to come, it must have been hard for Jesus to sit calmly on the back of the donkey and stroll humbly into Jerusalem. What was He thinking as He rode through the crowd? What did He see when He looked into their hearts?
No doubt there were some who truly trusted Jesus of Nazareth to be their Messiah. They followed Him, listened to His words, watched His miracles, and truly saw Him as the Son of God. In their hearts they believed and no words from any religious leader or scornful doubter was ever able to persuade them otherwise. He was their King and they lived out their lives according to that belief.
Surely others in the city that day were uncertain about who this Jesus really was. Perhaps they wrestled with the facts of what they had seen and heard but couldn't quite believe it all. "Maybe He is the Christ and maybe He isn't," they reasoned, but since everyone else was waving palms, they joined the crowd and waved along with them. Caught up in the thrill of the moment, they praised Jesus and welcomed Him as a king. For them, time would tell, but in that moment they were quite content to go along with the crowd.
Many were excited because they believed their Messiah had finally arrived to save them from the harshness and terrors of Roman rule. They longed for relief and ached for peace, but their selfish hearts focused only on what Jesus could do for them.
There must have been some who really didn't believe it all. Perhaps they stood at a distance, and maybe even mouthed words of praise, but their hearts we not convinced. Doubt, fear, and maybe even hatred crowed out true belief, and in the days that followed they cried, "Crucify him!"
Trusting hearts, uncertain hearts, selfish hearts, unbelieving hearts–Christ saw them all that day, and He sees our hearts today. What does He see when He looks at you? Are you truly trusting and following Him with a life that is committed and true to Him? Are you loving Him with all your heart?
Prayer: Lord Jesus, help me see You as King. Help me love You as Lord.
Words to Ponder: Today God's eyes are still running all across America, Canada, Mexico, the islands of the sea, the world . . . looking for someone—anyone—who will totally and passionately see Him, who is determined that every thought and action will be pleasing in His sight.
–Jim Cymbala
LINKS TO PAST PALM SUNDAY DEVOTIONALS:
By Ann Shorb
©Copyright, Ann Shorb, 2013
Scripture taken from the New King James Version. Copyright © 1982 by Thomas Nelson, Inc.  Used by permission.  All rights reserved.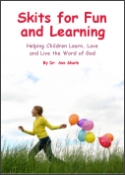 Skits for Fun and Learning
Skits for Fun and Learning is a collection of 15 puppet scripts and 5 articles on the subject of success with puppet ministries. The articles and scripts have been written by Dr. Ann Shorb and the book is available for purchase as a paperback, or as a PDF download.