MATTHEW 1:24
When Joseph woke up, he did what the angel of the Lord had commanded him and took Mary home as his wife. (NIV)
Unfaithful!  How could she doe this? Joseph must have questioned when he learned that Mary, who was pledged to be his wife, was already carrying a child.  This must have broken his heart, but Joseph was a righteous man, who obviously loved and cared about Mary.  Amazingly, there was no malice in his heart toward his betrothed even though he rightfully could have had her stoned to death for what appeared to be a sin of sexual immorality.  Instead Joseph considered divorcing her privately rather than publicly humiliating and harming her.
Joseph son of David, the angel spoke to him in a dream, do not be afraid to take Mary home as your wife, because what is conceived in her is of the Holy Spirit, (Matt. 1:20).  This news from the angel must have brought Joseph great comfort as he wrestled with the question of what to do.  No sin had been committed after all!  Mary was not guilty–Mary was chosen to be a part of God's miraculous plan to redeem His people.  And Joseph had been chosen, too.
Like Mary, I'm sure Joseph knew the stories of the Old Testament and the promises of God to save His people.  While Mary responded to her message from the angel with submission, joy and trust, Joseph responded with complete, unquestioning obedience.  When Joseph woke up, he did what the angel of the Lord had commanded him and took Mary home as his wife. (NIV) Yes, Joseph obeyed completely and immediately and he did exactly what God told him to do.
Blessed Father, I am touched and amazed at Joseph's quickness to do exactly as you commanded him.  Let me be quick to hear Your voice and to respond in total, unquestioning obedience as he did.
By Ann Shorb
Scripture taken from The HOLY BIBLE, NEW INTERNATIONAL VERSION ®. Copyright © 1973, 1978, 1984 by the International Bible Society.  Used by permission of Zondervan.  All rights reserved.
©Copyright Ann Shorb, 2008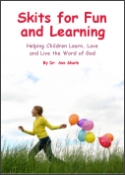 Skits for Fun and Learning
Skits for Fun and Learning is a collection of 15 puppet scripts and 5 articles on the subject of success with puppet ministries. The articles and scripts have been written by Dr. Ann Shorb and the book is available for purchase as a paperback, or as a PDF download.