HEBREWS 10:36 (NKJV)
For you have need of endurance, so that after you have done the will of God, you may receive the promise: "For yet a little while, and He who is coming will come and will not tarry.
Being a mom is a big job! Not only does a woman need a great deal of wisdom and knowledge, she needs tremendous energy, a good supply of creativity, and a ready sense of humor. Most of all she needs the steady hand of the Lord to guide and reassure her. In His Word, God gives all that a mother needs to encourage her along the way. His promises are true and certain. But how can a mom (or a dad) obtain those promises?
Hebrews 11:1, 6, 11 (NKJV)
Now faith is the substance of things hoped for, the evidence of things not seen . . . But without faith it is impossible to please Him, for he who comes to God must believe that He is, and that He is a rewarder of those who diligently seek Him . . . By faith Sarah herself also received strength to conceive seed, and she bore a child when she was past the age, because she judged Him faithful who had promised.
1 John 5:14-15 (NKJV)
Now this is the confidence that we have in Him, that if we ask anything according to His will, He hears us. And if we know that He hears us, whatever we ask, we know that we have the petitions that we have asked of Him.
2 Peter 1:4-8 (NKJV)
[God has] given to us exceedingly great and precious promises, that through these you may be partakers of the divine nature, having escaped the corruption that is in the world through lust. But also for this very reason, giving all diligence, add to your faith virtue, to virtue knowledge, to knowledge self-control, to self-control perseverance, to perseverance godliness, to godliness brotherly kindness, and to brotherly kindness love. For if these things are yours and abound, you will be neither barren nor unfruitful in the knowledge of our Lord Jesus Christ.
Through these verses, along with the one at the top of the page, we see that the key to obtaining God's promises is first of all having faith and trust in Him, then seeking to live out His will. It's that simple old formula—"Trust and Obey". Sara had faith in God, and therefore trusted Him to do all things right. Along with Abram, her husband, she obeyed God and they received His blessings. Receiving His blessings is the end result of trusting and obeying Him.
Remember the words of this great old hymn by John H. Sammis (1846-1919)?
TRUST AND OBEY
When we walk with the Lord in the light of His Word,
What a glory He sheds on our way!
While we do His good will, He abides with us still,
And with all who will trust and obey.
Refrain:
Trust and obey, for there's no other way
To be happy in Jesus, but to trust and obey.
Not a shadow can rise, not a cloud in the skies,
But His smile quickly drives it away;
Not a doubt or a fear, not a sigh or a tear,
Can abide while we trust and obey.
Refrain
Not a burden we bear, not a sorrow we share,
But our toil He doth richly repay;
Not a grief or a loss, not a frown or a cross,
But is blessed if we trust and obey.
Refrain
But we never can prove the delights of His love
Until all on the altar we lay;
For the favor He shows, for the joy He bestows,
Are for them who will trust and obey.
Refrain
Then in fellowship sweet we will sit at His feet.
Or we'll walk by His side in the way.
What He says we will do, where He sends we will go;
Never fear, only trust and obey.
Refrain
So Moms—and Dads—put your trust completely in God and listen to His voice. Follow His direction and live by His commands. You won't regret it! While there are bumps in the road and uncertain twists and turns along the way, the promises of God provide all that you need for this tremendous job of parenting.
Thank You, Lord, for the privilege of reading Your Word and learning of Your promises. Help us, one and all, to trust what You say, and live accordingly.
By Ann Shorb
©Copyright Ann Shorb, 2011
Scripture taken from the New King James Version. Copyright © 1982 by Thomas Nelson, Inc.  Used by permission.  All rights reserved.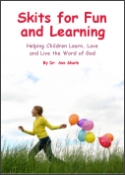 Skits for Fun and Learning
Skits for Fun and Learning is a collection of 15 puppet scripts and 5 articles on the subject of success with puppet ministries. The articles and scripts have been written by Dr. Ann Shorb and the book is available for purchase as a paperback, or as a PDF download.