PSALM 92:1-3 (NKJV)
It is good to give thanks to the LORD,
And to sing praises to Your name, O Most High;
To declare Your lovingkindness in the morning,
And Your faithfulness every night,
On an instrument of ten strings,
On the lute,
And on the harp,
With harmonious sound.
With our Thanksgiving celebrations a few days behind us now, we find ourselves in the throes of the holiday season. It's easy to let the spirit of thankfulness that was so much in focus just a few days ago rest on the shelf as we busily prepare for our Christmas and New Year traditions.
One way to keep that spirit of gratitude alive and part of the Christmas season is to intentionally focus on expressing gratitude to the Lord for His blessings before you even get out of bed in the morning. As you open your eyes, say a heartfelt, "Thank You, Lord, for a new day," and then sing the little chorus, "Thank You, Lord." You probably know it, but in case you don't, it goes like this:
THANK YOU, LORD
Thank you, Lord, for saving my soul.
Thank you, Lord, for making me whole.
Thank you, Lord, for giving to me
Thy great salvation so rich and free.
If you don't know the tune, you can make one up, or put these words to another one. If you prefer, choose a different song of gratitude with which to start your day. (And if your singing will wake up others around you, hum quietly instead, or sing silently in your heart. Your loved ones will appreciate your kindness, I'm sure.)
If you find it hard to be thankful that early since you don't fully know what you'll encounter in that next 24 hours, remember that if you know the Lord, you are assured of His presence with you through each and every experience of the day. For that you can always be grateful!
I'm determined to start my day with this little song every morning between now and Christmas. I already have my sticky note by my alarm clock so I'll see it when I open my eyes—and I have another note on the bathroom mirror just in case I miss the first one. Eventually, awakening with gratitude will become such a habit that I won't need the notes any more, but until then they will prompt me to intentionally start my day with a grateful heart.
Will you join me? Just think, this devotional is read by people around the world—all waking up at different times. If each of us would rejoice by expressing our gratitude to the Lord as we awaken, we could offer Him a continual wave of praise and thanksgiving. Wouldn't that delight His heart and bring Him glory!
PRAYER: Lord God of All the Earth, Thank You that we can choose how we start our day. Help us to choose wisely, and live in the joy of thankfulness each waking hour.
WORDS TO PONDER: "When you pray and praise God, you become more aware of His presence. Singing praise and saying prayers of thankfulness lifts your spirits and will build gratitude in your heart, increasing your feelings of peace and joy."
–Catherine Hart Weber, Christian psychologist and author, FLOURISH
RELATED DEVOTIONAL: Thank You, Lord
Copyright Ann Shorb, 2015
Scripture taken from the New King James Version. Copyright © 1982 by Thomas Nelson, Inc.  Used by permission.  All rights reserved.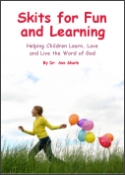 Skits for Fun and Learning
Skits for Fun and Learning is a collection of 15 puppet scripts and 5 articles on the subject of success with puppet ministries. The articles and scripts have been written by Dr. Ann Shorb and the book is available for purchase as a paperback, or as a PDF download.