PSALM 100 (NKJV)
Make a joyful shout to the Lord, all you lands!
Serve the Lord with gladness;
Come before His presence with singing.
Know that the Lord, He is God;
It is He who has made us, and not we ourselves;
We are His people and the sheep of His pasture.
Enter into His gates with thanksgiving,
And into His courts with praise.
Be thankful to Him, and bless His name.
For the Lord is good;
His mercy is everlasting,
And His truth endures to all generations.
The early years in our country's history were filled with danger and hardship. Many of those who survived the harrowing voyage across the Atlantic to the new land never lived to enjoy her freedoms, yet God blessed that hardy band of pilgrims, and strengthened their union mightily through the years.
On July 4th, 1776, the bell of freedom rang across the newly formed United States of America as patriots signed the Declaration of Independence. Our founding fathers were keenly aware that the blessings so abundantly showered upon this new nation were poured out by the hand of God, so in 1789, George Washington established a national day of thanksgiving and praise to celebrate His goodness to America. We don't often think of it but our celebrations on Independence Day and on Thanksgiving Day are linked together by the blessings of God.
While it's good to set aside these days to commemorate and celebrate the way God's hand has touched our country, we would do well to remember and thank Him each day for the freedoms we enjoy, and the many blessings He bestows on us.
But whether you live in the United States of America or across the vast oceans, God's blessings surround you each day. Take time to thank Him for your country and pray for your leaders. Seek ways to share His love and Word with those around you as much as possible. It's easy to get distracted or discouraged by what you see around you, but remember, God is still the Master of the Universe. His ways are perfect, His blessings are plentiful, and His love is powerful. Trust and thank Him!
PRAYER: We love You, Lord, and we praise You for the blessings we experience in our country. Help us to faithfully use the opportunities You give us to serve You right where we are.
WORDS TO PONDER: "Where the Spirit of the Lord is, there is liberty."
–The Apostle Paul, 2 Corinthians 3:17 (KJV)
RELATED DEVOTIONALS AND HYMNS:
By Ann Shorb
Copyright Ann Shorb, 2014
Scripture taken from the King James Version of The Holy Bible.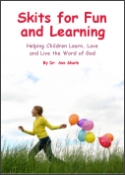 Skits for Fun and Learning
Skits for Fun and Learning is a collection of 15 puppet scripts and 5 articles on the subject of success with puppet ministries. The articles and scripts have been written by Dr. Ann Shorb and the book is available for purchase as a paperback, or as a PDF download.