HAPPY MEMORIAL DAY!
1 CORINTHIANS 6:20 (NKJV)
For you were bought at a price; therefore glorify God in your body and in your spirit, which are God's.
A church near my home displays a large banner that boldly proclaims, FREEDOM ISN'T FREE. That's something we all know, but the average American fails to think about often. For those of us who are non-military, life goes on at a rapid, steady pace as we flit from activity to activity. When that day is gone, we rest awhile, and in the morning we rise and do it all over again, barely thinking of the men and women constantly keeping vigil over our nation–or the thousands who have done so before. The reality is, without them we would not enjoy such great liberty and freedom.
Freedom is never free. There is always a cost to someone somewhere. It is fitting and right, then, that we honor and appreciate the individuals and families who willingly serve, or have served, in the U.S. military forces doing the hard work of protecting and defending our country.
No matter what kind of freedom we speak of, there is a cost to obtain it. The Lord Jesus Christ purchased our spiritual liberty. His death on the cross made a way for us to experience freedom from the penalty of sin, freedom from the power of sin, and eventually freedom from the presence of sin. When we accept His gift of love and salvation, we are justified and made free, free indeed! So let us honor and thank Him for His great sacrifice, and live in a way that pleases Him.
PRAYER: Almighty God, may we ever be mindful of those who freely give of themselves to obtain freedom for our country. And may we ever remember and appreciate the great sacrifice You made to give us spiritual freedom.
WORDS TO PONDER: "All gave some. Some gave all."
–Unknown
RELATED DEVOTIONALS:
By Ann Shorb
©Copyright, Ann Shorb, 2015
Scripture taken from the New King James Version. Copyright © 1982 by Thomas Nelson, Inc.  Used by permission.  All rights reserved.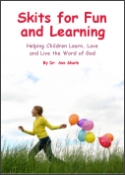 Skits for Fun and Learning
Skits for Fun and Learning is a collection of 15 puppet scripts and 5 articles on the subject of success with puppet ministries. The articles and scripts have been written by Dr. Ann Shorb and the book is available for purchase as a paperback, or as a PDF download.