PSALM 119:130
The entrance of thy words giveth light; it giveth understanding unto the simple.
On this Fourth of July weekend in America we're celebrating freedom! What privileges we have in this country, and how grateful we must be to those who have dedicated their lives to overcome the forces that seek to destroy us or put us in bondage on a national level.
But there are many other types of bondage we face every day . . . fear and anxiety, jealousy, guilt, hatefulness, anger, addictions, unforgiveness, bad relationships. These are the enemies of our hearts and minds that try to enslave us. How can we find freedom from this type of bondage? God's Word, always true and never changing, gives us clear direction and infallible principles to live by to help us stand against the enemies that come against us daily.
To overcome worry, fear and anxiety
I Peter 5:7, Casting all your care upon Him; for He careth for you.
Psalm 37:3, Trust in the LORD, and do good; so shalt thou dwell in the land, and verily thou shalt be fed.
Isaiah 41:13, For I the LORD thy God will hold thy right hand, saying unto thee, Fear not; I will help thee.
Psalm 91:4-6, He shall cover thee with his feathers, and under his wings shalt thou trust: his truth shall be thy shield and buckler. Thou shalt not be afraid for the terror by night; nor for the arrow that flieth by day; Nor for the pestilence that walketh in darkness; nor for the destruction that wasteth at noonday.
Read and study Psalm 9:9-10; 34; 37; Matthew 6:25-34; Psalm 3:1-6.
To fight jealousy
Psalm 37:7, Rest in the LORD, and wait patiently for him: fret not thyself because of him who prospereth in his way, because of the man who bringeth wicked devices to pass.
Proverbs 23:17-18, Let not thine heart envy sinners: but be thou in the fear of the LORD all the day long. For surely there is an end; and thine expectation shall not be cut off.
Read and study James 4:1-2; Ecclesiastes 4:4.

To deal with guilt
1 John 3:20, For if our heart condemn us, God is greater than our heart, and knoweth all things.
1 John 1:9, If we confess our sins, he is faithful and just to forgive us our sins, and to cleanse us from all unrighteousness.
Jeremiah 33:8, And I will cleanse them from all their iniquity, whereby they have sinned against me; and I will pardon all their iniquities, whereby they have sinned, and whereby they have transgressed against me.
Read and study Psalms 51 and 103; 1 John 1:9; Matthew 11:28-30; Isaiah 1:18; 2 Corinthians 7:10; Psalms 139:23-24; Psalms 32:1-5.
Of course, just reading God's Word isn't a magic cure, but it provides understanding and direction. We have to actually live by Its principles, adjust our thinking to His ways, and put into practice the things we learn there; but reading the Bible is where it starts.  Get into God's Word daily—and let His Word get into you!
For more help, check out some of the helpful articles and devotionals on our website:
God, I know Your Word has all of the answers for all of my problems. Help me to live according to Your truth each moment of each day.
By Ann Shorb
© Copyright Ann Shorb, 2009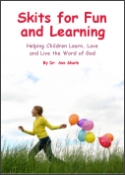 Skits for Fun and Learning
Skits for Fun and Learning is a collection of 15 puppet scripts and 5 articles on the subject of success with puppet ministries. The articles and scripts have been written by Dr. Ann Shorb and the book is available for purchase as a paperback, or as a PDF download.