LUKE 2:34 (NKJV)
Then Jesus said, Father, forgive them for they do not know what they do.
All around the sanctuary, in groups of two or three, hundreds of people were praying as the service began, yet but I doubt that many, if any, of them dared to say what my prayer partner asked of the Lord. Most prayed for that service, for the pastor, the church staff, the missionaries around the world, even for those who were ill or sorrowing—but this? It's just not a prayer that we hear often, and sadly, one that we don't think to pray.
In those moments, I heard the tender voice of compassion next to me pray, "Lord, I pray for our enemies, that you would bless them and open their eyes that they will hear and see You."
I was stunned! I can't remember when I last heard someone praying for the hearts of our enemies, those who cause us pain and are trying to destroy us. Instead most of us ask God to stop our pain, end our agony, or just get us though the trial. But to actually pray a blessing for those causing our suffering and anguish– how often do we do that?
More than 2000 years ago, Someone else prayed for His enemies. After being falsely accused, mocked, ridiculed, humiliated, beaten, and nailed to a rough wooden cross to die, the Lord Jesus Christ prayed a blessing for those who so tortured Him. "Father, forgive them," was His plea.
In the early days of His earthly ministry, Christ instructed His followers, "Love your enemies, bless those who curse you, do good to those who hate you, and pray for those who spitefully use you and persecute you." (Matthew 5:44) On the cross, the Lord Jesus lived out His own command. Now, let us live it, too.
PRAYER: Gracious and Merciful Lord, give me a heart that is tender and compassionate, even toward those who are my enemies. Help me to see them as You do.
WORDS TO PONDER: "The true purpose of prayer is not to get God to see things as we see them, but to make us see things as He sees them."
–H. Armstrong Roberts
RELATED PALM SUNDAY DEVOTIONALS:
By Ann Shorb
©Copyright, Ann Shorb, 2016
Scripture taken from the New King James Version. Copyright © 1982 by Thomas Nelson, Inc.  Used by permission.  All rights reserved.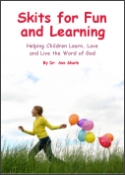 Skits for Fun and Learning
Skits for Fun and Learning is a collection of 15 puppet scripts and 5 articles on the subject of success with puppet ministries. The articles and scripts have been written by Dr. Ann Shorb and the book is available for purchase as a paperback, or as a PDF download.