PSALM 147:3 (NKJV)
He heals the brokenhearted
And binds up their wounds.
With the arrival of Thanksgiving, the holiday season has officially begun!  While many people are excited about connecting with family and friends they don't often see, others fret because they have to spend time with folks they would rather avoid. Feelings of hurt, rejection or abuse from the past and/or the present overshadow holiday joy.
Sadly, some individuals and families face the holidays with loneliness because death or distance keeps them from being with loved ones. Loneliness robs them of their joy and the holiday season is down right drudgery.
Still others see the holidays as a time of stress and chaos as activities and obligations fill their already busy schedule and drain their financial resources.
If you're facing the holidays feeling sad, hurt, lonely or weary, here are some promises from God's Word that can help you in your time of difficulty:
Psalm 28:6-7 (NKJV)
Blessed be the LORD,
Because He has heard the voice of my supplications!
The LORD is my strength and my shield;
My heart trusted in Him, and I am helped;
Therefore my heart greatly rejoices,
And with my song I will praise Him.
I Sam. 12:22 (NKJV)
For the LORD will not forsake His people, for His great name's sake, because it has pleased the LORD to make you His people.
Isaiah 41:10 (NKJV)
Fear not, for I am with you;
Be not dismayed, for I am your God.
I will strengthen you,
Yes, I will help you,
I will uphold you with My righteous right hand.
Hebrews 13:5 (NKJV)
Let your conduct be without covetousness; be content with such things as you have. For He Himself has said, "I will never leave you nor forsake you."
John 14:18 (NKJV)
I will not leave you orphans; I will come to you.
In your moments of distress, remember these promises from the Lord. Close your eyes and meditate on His words and picture your Savior right there holding you in His arms. Know that God is there to ease the ache in your soul, and let His presence comfort and warm your heart as you face this holiday season.
Heavenly Father, please bless our hearts and chase away the feelings of sadness, hurt, loneliness, and weariness at this special time of year. Help us to be thoughtful of others who hurt and to reach out to help them in their difficult moments, too.
©Copyright Ann Shorb, 2017
Scripture taken from the New King James Version. Copyright © 1982 by Thomas Nelson, Inc.  Used by permission.  All rights reserved.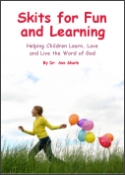 Skits for Fun and Learning
Skits for Fun and Learning is a collection of 15 puppet scripts and 5 articles on the subject of success with puppet ministries. The articles and scripts have been written by Dr. Ann Shorb and the book is available for purchase as a paperback, or as a PDF download.