JOHN 11:25
Jesus said unto her, I am the resurrection, and the life: he that believeth in me, though he were dead, yet shall he live: And whosoever liveth and believeth in me shall never die. Believest thou this?
The children giggled and squealed with delight as they discovered the Easter eggs hidden here and there.  Rain changed our plans and the "hunt" was held inside, but no one seemed to mind.  The fun was in finding the eggs and putting them in the basket to take home and enjoy.  It's all part of our Easter celebration.
It's a strange custom, really, to hide brightly colored eggs for children to hunt on a holy day, until you stop to remember just what that egg represents.  From the ancient cultures until now, the egg has been recognized as the beginning of life.  What better symbol to remind us of what Easter is all about?
His sacrificial death on the cross was the necessary payment for our sin debt, but His resurrection was proof of God's acceptance of that payment.  With our sin debt removed, new life is given to us in its place.  Because He lives, we live also—both now and eternally.  Now that's cause for a celebration!
Risen Lord Jesus, thank You for the incredible gift of new life that You give to us the moment we place our faith and trust in You and You alone to save us from our sin.  May we live each day in the power of Your resurrection and the joy of Your eternal love.
By Ann Shorb
© Copyright Ann Shorb, 2009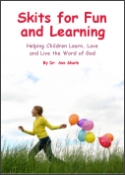 Skits for Fun and Learning
Skits for Fun and Learning is a collection of 15 puppet scripts and 5 articles on the subject of success with puppet ministries. The articles and scripts have been written by Dr. Ann Shorb and the book is available for purchase as a paperback, or as a PDF download.