Matthew 26: 38-39
My soul is exceeding sorrowful, even unto death: tarry ye here, and watch with me. And he went a little farther, and fell on his face, and prayed, saying, O my Father, if it be possible, let his cup pass from me: nevertheless not as I will, but as thou wilt.

Luke 22:44
And being in an agony he prayed more earnestly: and his sweat was as it were great drops of blood falling down to the ground.
In a matter of one short week, Jesus went from riding triumphantly into the city of Jerusalem being hailed as a king, to hanging in humiliation from a wooden cross with angry mobs shouting around Him, having been betrayed by one of his own. Through it all, He never ceased to honor His Father. How did He do it? How is it possible to go from the position and pomp of a king, to the railings and rejection as a criminal and still successfully glorify God?
The answer is found in the Garden of Gethsemane. In His few days of fame and popularity, Christ taught the disciples, confronted the Pharisees, and outsmarted the Sadducees. He was honored by Mary as she anointed His body with precious oil, and He celebrated Passover with His disciples. But then we read in all four of the gospels that Christ retreated to the garden with His beloved disciples – something He did often – and He pulled away even from them to spend time alone with His Heavenly Father. In those moments of communion between the Father and the Son, Christ faced the reality that the time had come for His final sacrifice. As His agony intensified, so did His prayer. It was that closeness with the Father, and Christ's total surrender to His will that carried our Savior through the humiliation and the agony of rejection and death on the cross bringing glory and honor to God and salvation to all who believe. Communion and commitment – two words joined by love and demonstrated by obedience that never cease to honor the Lord

Gracious Lord, may I live in communion and commitment to You so that whether in good times or in hard times my life will bring honor, praise and glory to You.
©Copyright Ann Shorb, 2008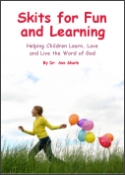 Skits for Fun and Learning
Skits for Fun and Learning is a collection of 15 puppet scripts and 5 articles on the subject of success with puppet ministries. The articles and scripts have been written by Dr. Ann Shorb and the book is available for purchase as a paperback, or as a PDF download.