PSALM 40:5 (NKJV)
Many, O LORD my God, are Your wonderful works which You have done; and Your thoughts toward us cannot be recounted to You in order; if I would declare and speak of them, they are more than can be numbered.
HAPPY THANKSGIVING!
Thanksgiving starts with recognition of the good and kind and wonderful things that we see around us. It may be a kindness extended to us, a word spoken to us, a simple gift that is given, or an attitude demonstrated toward us, but whatever it is, we will never be grateful for it, nor will we express that gratitude until we are aware of it. So the first step in developing a grateful heart is being able to recognize the blessings given to us.
The story in I Kings 6:8-22 gives us the secret in learning how to do that. When Elisha the Old Testament prophet was surrounded by enemy troops wanting to harm him, his servant panicked and cried in alarm, "Alas, my master! What shall we do?" Elisha calmly said, "LORD, I pray, open his eyes that he may see," and the LORD enabled the eyes of the young servant to see the multitude of godly warriors around Elisha's camp. There were "horses and chariots of fire" all over the surrounding mountains and God opened the eyes of a frightened young man to see the blessing of His protection in a time of sheer panic.
As you seek to develop a grateful heart, take time to pray and ask God to help you see the blessings around you. Like Elisha, you can pray for open eyes.
Then, deliberately stop what you're doing and take the time to actually look at the blessings that are already there. Don't rush into anything else until you've observed God's goodness and provisions.
Initially, you might try setting an alarm to go off every hour to remind you to pause and look for the blessings you've experienced in that hour. If you don't have time to do that exercise, at least take time before going to bed to reflect on your day and intentionally notice the good things that have happened or been said to you.
It's helpful to take time to record the things you observe. Actually making a written list of what you see helps solidify them in your mind, and the more you think on the positive, the more you will think on the positive!
Finally, take time to thank God and others for these wonderful gifts, no matter how big or how small they are.
Developing a thankful heart takes time and deliberate action. It means being intentionally observant and expressive over a period of time until spotting blessings becomes a habit, and expressing gratitude becomes natural.
PRAYER: Loving Father, open my eyes to see that goodness and blessings surround me—and let me always be grateful for the "wonderful works that You have done" in my life.
WORDS TO PONDER: "Saying thank you is a habit that needs to be cultivated and practiced in order for it to come naturally."
–Bonnie Ceban, 101 Ways to Say Thank You
RELATED DEVOTIONALS: 
Copyright Ann Shorb, 2015
Scripture taken from the New King James Version. Copyright © 1982 by Thomas Nelson, Inc.  Used by permission.  All rights reserved.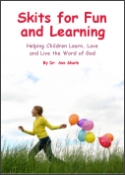 Skits for Fun and Learning
Skits for Fun and Learning is a collection of 15 puppet scripts and 5 articles on the subject of success with puppet ministries. The articles and scripts have been written by Dr. Ann Shorb and the book is available for purchase as a paperback, or as a PDF download.