MATTHEW 26:39-44 (NKJV)
He went a little farther and fell on His face, and prayed, saying, "O My Father, if it is possible, let this cup pass from Me; nevertheless, not as I will, but as You will."
Then He came to the disciples and found them sleeping, and said to Peter, "What! Could you not watch with Me one hour? Watch and pray, lest you enter into temptation. The spirit indeed is willing, but the flesh is weak."
Again, a second time, He went away and prayed, saying, "O My Father, if this cup cannot pass away from Me unless I drink it, Your will be done."
And He came and found them asleep again, for their eyes were heavy.
So He left them, went away again, and prayed the third time, saying the same words.
How could He do it? How could Christ, knowing the grueling, gruesome task that lay before Him, have walked willingly and boldly to the cross? Many Bible scholars believe the reason Christ was able to fulfill the Father's plan was because of His prayer in the Garden of Gethsemane. It was there that He pulled away from everyone else and retreated in solitude to commune with His Heavenly Father.
In that hour, Christ prayed as a Solitary Individual realizing that the task before Him was something He had to do alone. He could not count on any other human to get Him through it. His private communion with God the Father was His source of strength.
Christ prayed as a Servant humbling Himself and falling on His face before His Master ready to do His bidding.
He prayed as a Son speaking to His beloved Father. His prayer was sincere and personal. There was intimacy and respect in their divine relationship as Holy Father and Holy Son.
He prayed as a Seeker persevering as He faced His most difficult hour. Pleadingly He prayed three times, "if it is possible, let this cup pass from Me."
He prayed as a Savior willing to suffer the beatings, the humiliation, the agony of crucifixion, and the separation from His beloved Father in order that you and I might gain eternal salvation.
Christ prayed in solitude, in sincerity, and in surrender as He gave His all on our behalf. "Amazing love! How can it be, that Thou, my God, shouldst die for me?"
Prayer: Thank You, my Savior, for Your infinite love, Your amazing grace, and Your sacrifice on my behalf.
Words to Ponder: "Let it be as God wills, and God will determine for the best."
–Charles H. Spurgeon
By Ann Shorb
©Copyright, Ann Shorb, 2014
Scripture taken from the New King James Version. Copyright © 1982 by Thomas Nelson, Inc.  Used by permission.  All rights reserved.
FREE EASTER SKIT FOR CHILDREN OR FOR PUPPETS!
This simple skit, "The Resurrection Rock" is fun to use in Sunday School, Children's Church, or in family devotions.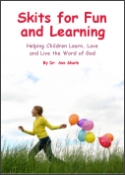 Skits for Fun and Learning
Skits for Fun and Learning is a collection of 15 puppet scripts and 5 articles on the subject of success with puppet ministries. The articles and scripts have been written by Dr. Ann Shorb and the book is available for purchase as a paperback, or as a PDF download.