Psalms 66:1 (KJV)
All the world shall worship thee, and shall sing unto thee.
CHRISTMAS HYMN
Come worship Christ the Babe,
Here in a manger laid.
Come worship Him for He is King.
He is God's gift of love
Sent down from Heaven above.
He comes to earth God's peace to bring.
Here in a cattle stall,
He who created all,
Now as a babe lies silently.
He has become a man
To bring salvation's plan
That we might live eternally.
Come worship, one and all!
Come and before Him fall.
Oh, let His praises loudly ring.
Let every nation know
Of One who loves them so,
Till all the earth His praise shall sing.
(May be sung in the tune of "Fairest Lord Jesus.")
By Ann Shorb
©Copyright Ann Shorb, 2016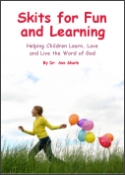 Skits for Fun and Learning
Skits for Fun and Learning is a collection of 15 puppet scripts and 5 articles on the subject of success with puppet ministries. The articles and scripts have been written by Dr. Ann Shorb and the book is available for purchase as a paperback, or as a PDF download.