Psalm 89:1
I will sing of the mercies of the LORD forever: With my mouth will I make known Thy faithfulness to all generations.
As followers of the Lord Jesus Christ, we have a wonderful story to tell! This time of year is a perfect time to share with others the good news of His birth, life, death and resurrection. There are many ways to share that story with others.
1. As it comes up in conversation, tell how Christ has changed your life. What difference does He make in your life? How does being a Christian affect the way you live?
2. Give out Gospel tracts. Hand them to the clerk in the store and the man at the gas station. Pass them to the doctors, dentists, and lawyers you meet in your every day events this month. Slip them in your Christmas cards. There are tracts available on our website: www.ccesonline.com/tracts.htm. These may be downloaded and printed free of charge. Print as many as you want! Or you can order them from Christian Book Distributor (link goes directly to their Christmas tracts page).
3. Tell others how God answers your prayers. Don't hesitate to share with them specifically what you prayed for and how God responded in that situation.
4. Write a letter of hope and encouragement to someone this week. Share with him/her specific promises from the Bible that have encouraged you in the past.
5. Offer to share your testimony at a nursing home or other group meeting.
Christmas is a great time to ring out the good news. Don't let the opportunity slip by!
Lord Jesus, as a part of celebrating Your birth this year, help me to be bold in sharing with others what You have done in my life. Remind me to give them the opportunity to know You and be blessed even as I have been.
By Ann Shorb
Copyright Ann Shorb, 2007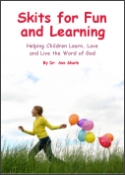 Skits for Fun and Learning
Skits for Fun and Learning is a collection of 15 puppet scripts and 5 articles on the subject of success with puppet ministries. The articles and scripts have been written by Dr. Ann Shorb and the book is available for purchase as a paperback, or as a PDF download.