PSALM 119:97, 103, 105 (NKJV)
Oh, how I love Your law!
It is my meditation all the day.
How sweet are Your words to my taste,
Sweeter than honey to my mouth!
Your word is a lamp to my feet
And a light to my path.
The National Bible Association has designated Monday, November 14, 2016 as International Day of the Bible. All people who love the Word of God are invited to honor Him and His written communication to the world by pausing for a few moments at noon local time to celebrate the Holy Bible.
This is to be a public or a private tribute to the Word of God, however you choose. You can read it, sing it, write about it, photograph it, post it on social media, or just spend those moments in prayer thanking God for the Bible and the way it has blessed your life. Be creative and enjoy honoring this priceless treasure as you ask Him to use it to show His love to the world.
Richard Glickstein, President of the National Bible Association says, "Honoring God's Word and asking Him to bless our nations and bring peace to the world is particularly apt in this period of great turmoil."
Why not join the celebration? Write a note or set an alarm of some type to remind you to stop whatever you're doing on Monday at noon and spend a few minutes of time expressing to God and/or others how much His Word means to you. And just think, there will be people all around the globe praising and rejoicing with you. Now, that's what I call a party!
For more information visit nationalbible.org.
PRAYER: Heavenly Father, there aren't enough words to describe how great a gift Your Word is to us. We thank and praise You for this marvelous treasure that guides, instructs, comforts, corrects, and allows us to know You and Your plan for the ages.
WORDS TO PONDER: The Bible is not merely a book about God; it is a book from God. 'All Scripture is breathed out by God' (2 Timothy 3:16, NIV). The Bible is God's self-revelation to us all. He wants us to know about himself and his provision for our salvation and our spiritual growth. It is God's only objective, authoritative communication to us.
–Jerry Bridges, Transforming Grace
RELATED DEVOTIONALS:
By Ann Shorb
©Copyright, Ann Shorb, 2016
Scripture taken from the New King James Version. Copyright © 1982 by Thomas Nelson, Inc.  Used by permission.  All rights reserved.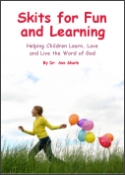 Skits for Fun and Learning
Skits for Fun and Learning is a collection of 15 puppet scripts and 5 articles on the subject of success with puppet ministries. The articles and scripts have been written by Dr. Ann Shorb and the book is available for purchase as a paperback, or as a PDF download.