Matthew 2:11
And when they had come into the house, they saw the young Child with Mary his mother, and fell down and worshiped Him. And when they had opened their treasures, they presented gifts to Him: gold, frankincense, and myrrh.
On many occasions, my husband's missionary travels took him away from home on his birthday. The first time that it happened, our children were quite small and we were all sad, so we decided to honor him on his special day and celebrate without him. We baked a birthday cake, bought the ice cream, decorated the house, and invited three very special friends to come to our party. Admittedly it was a bit unusual to celebrate without the guest of honor present, especially when we sang "Happy Birthday!" We've laughed many times over the years about celebrating Dad's birthday when he wasn't even there; but even though we couldn't actually see him, he was there in our hearts. We remembered him, we honored him, and when he returned we celebrated again!
This week as you celebrate the birth of the Lord Jesus Christ, make Him the center of your holiday, and celebrate as if He were actually sitting at your table or in your living room chair. Fellowship with Him in prayer. Talk about Him to your loved ones. Read His story together from His Word and sing His praises. Let the gifts you share remind you of the many gifts He gives to you, and offer to Him gifts from your heart. Focus on Him and honor Him, and remember that when He returns we'll celebrate again!
O come let us adore Him,
O come let us adore Him,
O come let us adore Him,
Christ the Lord.
–Francis Wade, 1743
Lord Jesus, we invite You to be our guest and be honored in our hearts and home. Happy Birthday!
By Ann Shorb
Copyright Ann Shorb, 2007
MERRY CHRISTMAS, MY FRIEND!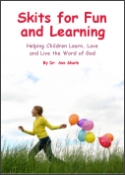 Skits for Fun and Learning
Skits for Fun and Learning is a collection of 15 puppet scripts and 5 articles on the subject of success with puppet ministries. The articles and scripts have been written by Dr. Ann Shorb and the book is available for purchase as a paperback, or as a PDF download.