LUKE 2:13-14 (KJV)
And suddenly there was with the angel a multitude of the heavenly host praising God, and saying, Glory to God in the highest, and on earth peace, good will toward men.
THE CAROL OF THE ANGELS
Long ago in old Judea
Angels shining with God's light,
Sang the song of hope and gladness,
"Christ the Lord is born this night."
Faithful shepherds heard the carol,
Then with haste they found the King,
And with voices full of wonder
Did the faithful shepherds sing.
Praising God and giving glory,
Shepherds passed the carol on.
Down through countless generations
Has the wondrous message carol come.
No more angels in the night sky,
No more shepherds do I see;
But that blessed song of angels
Has been passed along to me.
Help me, Lord, with voice unceasing,
Sing the song as it should be,
Telling of the wondrous Savior;
Sing Your song of love through me.
By Ann Shorb
The poem above is one that I wrote in 1993. Just a few years ago, my brother-in-law put it to music. If you would like to download a printed copy of this song, go to www.ccesonline.com/downloads/carol.pdf
©Copyright Ann Shorb
NEW BIBLE STUDY STARTING IN JANUARY 2017!
MAKING PEACE WITH YOUR EMOTIONS: Living Life to the Fullest
Tuesdays, 9:30 to 11:00 A.M.
January 3-March 28, 2017
Held at First Baptist Church, 217 Fulton St., Hanover, PA 17331
Wouldn't life be easier without all the tumultuous feelings we experience? One moment we can be completely happy and the next find ourselves confused, lonely or devastated. Are our feelings something to be ignored, overcome, or just accepted?
In this Bible study, we will explore the stories of 12 Bible characters who expressed raw emotions. We will learn to handle negative emotions in healthy, godly ways, and gain an appreciation for the gift of emotions that God has given us.
EVERYONE WELCOME!
A donation of $10 is requested for materials and refreshments
Registration is required.
Please contact CCES: 717-630-2255.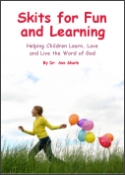 Skits for Fun and Learning
Skits for Fun and Learning is a collection of 15 puppet scripts and 5 articles on the subject of success with puppet ministries. The articles and scripts have been written by Dr. Ann Shorb and the book is available for purchase as a paperback, or as a PDF download.