HEBREWS 13:15 (NKJV)
Therefore by Him let us continually offer the sacrifice of praise to God, that is, the fruit of our lips, giving thanks to His name.
It never failed. Whenever someone asked Pastor Bob how he was, his response was always the same, "Thankful!" And he was. No matter what the circumstance, he had a heart of gratitude for God's love and the many good gifts showered upon him. What a perfect example of someone who continually offers the sacrifice of praise to God–even in times of suffering.
What makes a person so grateful? The writer of Hebrews tells us in the verses that precede his admonition to continually speak praise and thanksgiving from our lips. He reminds us that the Lord Jesus Christ suffered and died to pay for our sins, and that in Him we find our salvation and assurance of an eternal Heavenly home. Just the thought of God's enormous love, and of His presence with us today, tomorrow, and forever is cause for rejoicing!
Rev. Charles Stanley says, "No matter what challenges or hardships we face, we can always thank Him for creating and sustaining us; for His providential care, guidance, and provision; and for His unfailing love. But above all else, we should thank Him for our salvation, for it required the sacrifice of His Son on our behalf."
Although I haven't seen Pastor Bob in many years, I have a feeling that if I could contact him today and ask, "How are you?" his answer would be the same, "I'm thankful!" I'm convinced his answer is always the same because His Lord is always the same! "Jesus Christ is the same yesterday, today, and forever," (Hebrews 13:8). Hallelujah! Praise His name!
PRAYER: Precious Lord, how I praise and thank You for the matchless gift of salvation given to me through the death, burial, and resurrection of the Lord Jesus Christ. May that thought always produce gratitude in my heart and put praise on my lips.
WORDS TO PONDER: "God is good, and all blessings come from Him. By telling others how good He is to you, you will give hope and inspire spiritual renewal, as well. We are not only called to 'share each other's burdens' (Galatians 6:2 NLTP), but to share our joys, blessings, and gratefulness, as well."
–Catherine Hart Weber, Ph.D., author of FLOURISH
RELATED DEVOTIONALS:
By Ann Shorb
©Copyright, Ann Shorb, 2016
Scripture taken from the New King James Version. Copyright © 1982 by Thomas Nelson, Inc.  Used by permission.  All rights reserved.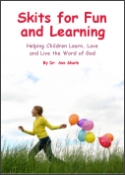 Skits for Fun and Learning
Skits for Fun and Learning is a collection of 15 puppet scripts and 5 articles on the subject of success with puppet ministries. The articles and scripts have been written by Dr. Ann Shorb and the book is available for purchase as a paperback, or as a PDF download.