Ecclesiastes 3:1
To everything there is a season and a time for every purpose under heaven.
The month of September always brings with it a multitude of changes. As the change of seasons arrives, we see the beautiful variation of colors outdoors, temperatures gradually cool, and students settle into the routine of study and learning. Here at Christian Counseling & Educational Services, we're also experiencing an exciting season of change. There has been more adaptations in this our 10th anniversary year than in any other since our beginning in 1997.
Since February we changed office workers, and we added four new counselors. To accommodate that, we expanded our office hours and added a second administrative assistant. We reformatted brochures, business cards and receipts. We changed banks, phone companies, computers and Internet providers. We added several new seminars to our repertoire, with more to come. Marc totally redesigned our website, added lots of new content and features, and we are blessed to have new guest writers. In the office, we revamped some of our policies and procedures, and we're even redecorating some of the rooms. But our season of change isn't over! So that we may better serve our clients, our community and local churches, there are lots of new services and resources in the works. We just can't get it all done fast enough!
But one thing that hasn't changed is our stand on the Word of God. That's because IT hasn't changed! The Bible provides clear direction for every day living. Its truth is solid, accurate, and applicable to all age groups through all generations. It remains the only absolute source of truth and knowledge. What a relief to know that there is something that never changes, never has to be updated, and never needs to be modified! As Christian counselors, it's our joy to share with hurting people that "The grass withers, and the flower fades, but the word of our God stands forever." (Isaiah 40:8 NKJV) That promise brings us hope and peace in life's darkest hours.
Lord Jesus, Your Word is our guide and our guardrail. May we be faithful in following its principles, accepting its direction, and sharing its message of truth and grace.

By Ann Shorb
Copyright 2007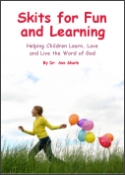 Skits for Fun and Learning
Skits for Fun and Learning is a collection of 15 puppet scripts and 5 articles on the subject of success with puppet ministries. The articles and scripts have been written by Dr. Ann Shorb and the book is available for purchase as a paperback, or as a PDF download.