Hebrews 12:2 (The Amplified New Testament)
Looking away [from all that will distract] to Jesus, Who is the Leader and the Source of our faith [giving the first incentive for our belief] and is also its Finisher [bringing it to maturity and perfection].
It was cold and snowy as I drove through our small town last week. The weather was perfect for the Christmas season and the end of another year. I was thinking about the coming new year when I heard the voices on the CD sing, "Be Thou my Vision, O Lord of my heart."  Over the years this has become one of my favorite songs so I cranked up the volume to enjoy the beauty of this stately old hymn more fully.  Here is what I heard:
BE THOU MY VISION
Be Thou my Vision, O Lord of my heart;
Naught be all else to me, save that Thou art–
Thou my best Thought, by day or by night,
Waking or sleeping, Thy presence my light.
Be Thou my Wisdom, and Thou my true Word;
I ever with Thee and Thou with me, Lord;
Thou my great Father, I Thy true son;
Thou in me dwelling, and I with Thee one.
Be Thou my battle Shield, Sword for the fight;
Be Thou my Dignity, Thou my Delight;
Thou my soul's Shelter, Thou my high Tower:
Raise Thou me heavenward, O Power of my power.
Riches I heed not, nor man's empty praise,
Thou mine Inheritance, now and always:
Thou and Thou only, first in my heart,
High King of Heaven, my Treasure Thou art.
High King of Heaven, my victory won,
May I reach Heaven's joys, O bright Heaven's Sun!
Heart of my own heart, whatever befall,
Still be my Vision, O Ruler of all.
Although this ancient Irish poem was written in the eighth century the words are still as powerful today as they were then for they reflect the author's deep longing for Christ to be his total focus and total sufficiency. Indeed, they echo the cry of the heart that longs to know Christ more intimately in every phase of life, and the soul that willingly sets aside all other distractions in order to focus on Him and His greatness. This is the heart that knows hope, peace, love, and joy; this is the soul that truly finds rest.
As I listened to the song on that cold, snowy afternoon, I decided to make this my prayer for 2010. So I printed a copy of the hymn and placed it in my Bible where I can see it daily. I might even frame a copy and hang it in my bedroom or my office, but it isn't about just reading a bunch of words each day. It's about a heartfelt commitment to know Christ more and more each day. That's quite a challenge!
I encourage you to take some time to meditate on the beautiful thoughts of this and other hymns and let them challenge and bless your heart as they do mine. Perhaps you'll find one that will become your prayer for the new year, too.
High King of Heaven, truly I long for You to be my focus and the Source of all my strength. Bless me in the days to come that I may find all that I need in You alone.
©Copyright Ann Shorb, 2009
*Scripture taken from The Amplified New Testament, Zondervan Publishers, 1958. Used by permission.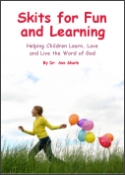 Skits for Fun and Learning
Skits for Fun and Learning is a collection of 15 puppet scripts and 5 articles on the subject of success with puppet ministries. The articles and scripts have been written by Dr. Ann Shorb and the book is available for purchase as a paperback, or as a PDF download.