MATTHEW 22:37-39 (NKJV)
Jesus said to him, 'You shall love the Lord your God with all your heart, with all your soul, and with all your mind.' This is the first and great commandment. And the second is like it: 'You shall love your neighbor as yourself.'
It's nearly Valentine's Day and there are hearts everywhere! In stores, on school bulletin boards, in churches, and in homes, heart-shaped decorations remind us that this is the season to express our love to those who are special to us.
In his song "O for a Heart to Praise My God", Charles Wesley (1707 to 1788) described his longing for a heart that was totally committed to Christ. Take a couple of minutes to slowly read through his prayer and let the words sink in.
O for a heart to praise my God,
A heart from sin set free,
A heart that always feels Thy blood
So freely shed for me.
A heart resigned, submissive, meek,
My great Redeemer's throne,
Where only Christ is heard to speak,
Where Jesus reigns alone.
A humble, lowly, contrite, heart,
Believing, true and clean,
Which neither life nor death can part
From Christ who dwells within.
A heart in every thought renewed
And full of love divine,
Perfect and right and pure and good,
A copy, Lord, of Thine.
Thy tender heart is still the same,
And melts at human woe:
Jesus, for thee distressed I am,
I want Thy love to know.
Thy nature, gracious Lord, impart;
Come quickly from above;
Write Thy new name upon my heart,
Thy new, best name of Love.
Are these the desires and longings of your heart? When you read the first verse of the song, you see that Wesley's longing to have a heart totally surrendered to Christ came out of the remembrance of what Christ did for those He loved—He willingly shed His own blood so that we might be set free from the bondage of sin.
While you're thinking of ways to express love to those who are dear to you this Valentine's season, don't forget the One who loves you supremely. Take time to meditate on His great love for you and the many ways He demonstrates that each day. Out of those thoughts, may your heart be stirred as Wesley's was, to full surrender to the Lord Jesus Christ.
Prayer: O Father, I'm overwhelmed with Your goodness, Your grace, and Your love! May my heart truly be Your throne from which You control every aspect of my life, and may I live praising You.
Words to Ponder: "Do you know how critical it is that you and I know who God is and what He says and then make it our goal to live accordingly in every circumstance of our lives? . . . It demonstrates to God that ours is not a one-way love affair—but a genuine love that longs to be pleasing to Him." –Kay Arthur, PRECIOUS ONE, DO YOU KNOW . . . GOD LOVES YOU.
By Ann Shorb
©Copyright, Ann Shorb, 2013
Scripture taken from the New King James Version. Copyright © 1982 by Thomas Nelson, Inc.  Used by permission.  All rights reserved.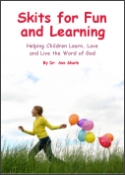 Skits for Fun and Learning
Skits for Fun and Learning is a collection of 15 puppet scripts and 5 articles on the subject of success with puppet ministries. The articles and scripts have been written by Dr. Ann Shorb and the book is available for purchase as a paperback, or as a PDF download.