PROVERBS 13:4 (English Standard Version)
The soul of the sluggard craves and gets nothing, while the soul of the diligent is richly supplied.
Just a few days ago we said good-bye to 2009 and opened the pages of 2010.  It seems like only yesterday that we welcomed the year 2000, the opening of a new millennium, yet here we are a whole decade later. Time passes so quickly and I'm more convinced than ever that if we want to accomplish something, we have to prayerfully make it a priority and just do it. If not, our opportunity may be gone forever.
One of my goals for this year is to read through the entire Bible. I've done it before, but this time I'm reading it chronologically as the events happened. That's something I've never done before.  Knowing that Job lived sometime between creation and the birth of Abraham, it will be interesting to read Job's story while reading through Genesis!
Reading through the entire Bible may seem a bit overwhelming for some folks, but here's a great website to help you find a reading plan that's just right for you: E-Word Today.com.  You can choose from five different reading plans (Beginning to End, Chronological, Historical, New Testament and then the Old, or Old Testament first then the New Testament), and over fifty different versions. The best part is that you can start on the first or the fifteenth of any month!  And if you don't like reading on-line, you can print off the reading schedule and use it to guide you through the year as you read from your own copy of God's Word.
Whether you choose to follow one of these reading plans or you find some other devotional reading more helpful, the key is to stick with it. When you do get off track (and most likely you will at some point), don't give up. Get up and get going again.
Don't be a sluggard. Be diligent! Even if you don't complete the reading in one year, keep going and finish when you can. You have nothing to lose—and a whole lot of blessing to gain!
Almighty God, in this new year help me to be diligent to use my time wisely and to be faithful to read and study Your Word each day so that I may grow steadily in knowledge and in wisdom.
By Ann Shorb
©Copyright Ann Shorb, 2010
Scripture quotations are from The Holy Bible, English Standard Version, copyright (c) 2001 by Crossway Bibles, a division of Good News Publishers. Used by permission. All rights reserved.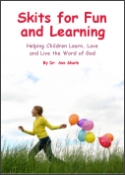 Skits for Fun and Learning
Skits for Fun and Learning is a collection of 15 puppet scripts and 5 articles on the subject of success with puppet ministries. The articles and scripts have been written by Dr. Ann Shorb and the book is available for purchase as a paperback, or as a PDF download.