HAPPY FATHER'S DAY!
EPHESIANS 5:8-10
For ye were sometimes darkness, but now are ye light in the Lord: walk as children of light: (For the fruit of the Spirit is in all goodness and righteousness and truth;) Proving what is acceptable unto the Lord.
I was a few minutes early for the workshop and by sitting near the front of the room, I could easily see the presenter organizing her papers, setting up the Power Point materials, and readying herself for her talk. Then just a few moments before the class began, an attractive young woman entered the room, walked straight to the teacher, and looked her in the eye. The visitor affirmed the presenter with some kind words, and brushed a wisp of stray hair away from her face. The smile on the leader's face showed relief and renewed confidence.  As quickly as she came, the visitor was gone.
Just a few seconds later, a second lovely young woman entered the room and repeated nearly the same actions as the first. This one was even more bold in her gestures and words. These visitors were obviously cheerleaders for our teacher, and the connection between them was strong and affective.
Later I learned that these three ladies are sisters—all daughters of a renowned man of God whose writings and teachings focus on living in the wonder and truth of God's Word.  He and his wife have spent their lives encouraging and preparing others for ministry, and helping them build strong families. From what I saw that day of the connection between his daughters, he obviously practiced at home what he preached to others. That kind of relationship comes only from knowing and spending time with one another. The daughters are truly a reflection of their father as they walk in the light of his example, his counsel, and his love.
The apostle Paul reminds us that as believers we have a responsibility to be a reflection of the goodness, righteousness and truth of our Heavenly Father, and we walk in the light of His example, His counsel, and His love.
Blessed Father, remind me of the importance of spending time with You and knowing You more each day so that I may reflect Your light to others.
Also see Walk as Children of Light.
By Ann Shorb
©Copyright Ann Shorb, 2010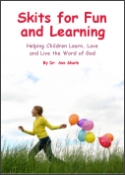 Skits for Fun and Learning
Skits for Fun and Learning is a collection of 15 puppet scripts and 5 articles on the subject of success with puppet ministries. The articles and scripts have been written by Dr. Ann Shorb and the book is available for purchase as a paperback, or as a PDF download.