Psalm 27: 9-10
. . . leave me not, neither forsake me, O God of my salvation. When my father and my mother forsake me, then the LORD will take me up.
Recently a dear friend asked me, "Where was God when I was being abused? My mind is trying to figure this out as this seems to be a crucial part of trusting God." Here is my reply to her:
The best answer I know to your question is that God was then where He always has been–on His throne in the heavens controlling the universe, but He was weeping for you and with you in your time of difficulty. God's plan was never for one person to hurt another, especially a child, but because He gave man a choice, He stepped back to let man exercise his own free will. Sometimes that free will hurts another, but God is sufficient to nurture, help and heal the one who has been hurt. He longs to care for and caress the wounded spirit in ways that one who has never been hurt could never experience. In that case then, it is to our blessing that each of us has been hurt in some way, for each one of us has need of the Savior and Great Physician. It is only in our hurt and pain that we can feel His gentle arms of love around us and feel the warmth of His tears as they fall from His eyes.
Currently we are studying a fabulous book entitled, Safe People in our Tuesday morning Bible study. Here's what the authors, John Townsend and Henry Cloud have to say . . .
Why do the innocent suffer? Because of love. God designed love to be based on our free will. He didn't want to be loved out of fear, or out of compliance. He wanted to be loved out of gratitude. But love has a price tag. If love is free, then a lover is free to be unloving. Otherwise love is forced. Because we are free to be unloving, many of us have been run over by the steamroller of the selfishness of others.
Trust is a hard issue when we've been hurt. I know that firsthand, but I also know that while earthly friends and family may let us down and not be trustworthy, our Heavenly Father and Jesus the Son never fail, never falter, never renege on their promises. God is totally trustworthy, so when we cannot trust others, we can safely trust Him. If you have trouble trusting God the Father because you have been abused by your earthly father, then focus on Jesus the Son. Get to know Him and embrace His love for you. All of the goodness and greatness of the Father are reflected in the Son, and you can experience His love and He will be safe for you.
Lord Jesus, wrap your arms of love around my friend and bless her. Comfort her hurting heart and heal the wounds of the past. Give her strength for the present and hope for the future.
By Ann Shorb
©Copyright Ann Shorb, 2008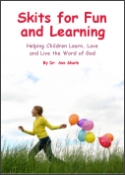 Skits for Fun and Learning
Skits for Fun and Learning is a collection of 15 puppet scripts and 5 articles on the subject of success with puppet ministries. The articles and scripts have been written by Dr. Ann Shorb and the book is available for purchase as a paperback, or as a PDF download.