ISAIAH 50:10
Who among you fears the Lord and obeys the voice of His servant? Let him who walks in darkness and has no light trust in the name of the Lord and rely on his God. (ESV)
If you've listened to the news lately you can't help but wonder what's ahead.  How bad will the economy get?  Which major company will be next to close its doors?  What's next in the Middle East?  How safe are our children in school? Questions and more questions cycle and recycle through our minds.
In Pearls of Great Price: 366 Daily Devotional Readings Joni Eareckson Tada writes, "Our insistence upon discerning what's up ahead is natural, but it is a hindrance to real faith. It's why God constantly encourages us to trust him in the dark (Isaiah 50:10).  True faith means resting in who God is. He has charged himself with full responsibility for your eternal happiness, and he stands ready to take over the management of your life. He is wise and good. Trust him with what's ahead."
Isn't it a comfort to know that God is not only interested and involved in our eternal destiny, but that He is responsible for and in control of every moment of every day of our lives right here and right now?  It is only in knowing who He is and focusing on His greatness that we can experience calm and assurance, knowing that we are never alone and that nothing happens by accident.  Because of who God is, we can trust Him.  And that's true faith!
Sovereign Lord, thank You for the assurance of Your presence, Your might and power, Your wisdom, Your love, Your faithfulness, Your generosity, Your goodness . . .  Oh, God, thank You for who You are!
By Ann Shorb
WORDS OF COMFORT AND HOPE
Zephaniah 3:17
The Lord your God is in your midst, a mighty one who will save; he will rejoice over you with gladness; he will quiet you by his love; he will exult over you with loud singing.
Psalm 62:8
Trust in him at all times, O people; pour out your heart before him; God is a refuge for us.
Psalms 144:2
He is my steadfast love and my fortress, my stronghold and my deliverer, my shield and He in whom I take refuge, who subdues peoples under me.
2 Samuel 23:4
He dawns on them like the morning light, like the sun shining forth on a cloudless morning, like rain that makes grass to sprout from the earth.
Romans 8:31
What then shall we say to these things? If God is for us, who can be against us?
Scripture quotations are from The Holy Bible, English Standard Version, copyright (c) 2001 by Crossway Bibles, a division of Good News Publishers. Used by permission. All rights reserved.
©Copyright Ann Shorb, 2009
Pearls of Great Price: 366 Daily Devotional Readings

By Joni Eareckson Tada / Zondervan

One of the most inspiring evangelical Christians alive today, Joni Eareckson Tada brings comfort to thousands in her latest devotional Pearls of Great Price. In the introduction she says, "I have experienced more than a few irritants in my life, not the least of which is four decades of quadriplegia. The twelve months during which I wrote Pearls of Great Price was a year of pain and hardship like none other. My bones are getting old, tired, thin, and frail…and lately, it's not been easy. But God continues to give layer after layer of life-transforming grace; he has made each irritation smooth and acceptable. All because of his help and hope."If you or someone you love could use a word of encouragement, find it here every day of the year. Each entry opens with a passage of Scripture from the NIV which is followed by a reflection from Joni. She then calls upon you to respond and offers a prayer designed to lead you closer to Christ. Discover at a deeper level the "help and hope" that can be found only in Christ through these Pearls of Great Price.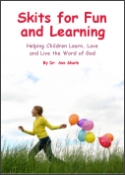 Skits for Fun and Learning
Skits for Fun and Learning is a collection of 15 puppet scripts and 5 articles on the subject of success with puppet ministries. The articles and scripts have been written by Dr. Ann Shorb and the book is available for purchase as a paperback, or as a PDF download.