PSALM 91:4
He shall cover thee with His feathers, and under His wings shalt thou trust . . .
DEUTERONOMY 33:12
The beloved of the LORD shall dwell in safety by Him, and the Lord shall cover him all the day long, and he shall dwell between His shoulders.
More than any other holiday I know, Mother's Day evokes a tremendous variety of emotions. For many, it's a time of joy and loving celebration as they honor the one who is so dear to their heart. For others, it is only a painful reminder of the longings that lie deep in their soul.
Some long for a mother who isn't physically there because she lives in a distant place, or circumstances keep them apart. Many grieve for a mom who was taken away by death. Others know the heartache of sitting face to face with a mother who isn't there because Alzheimer's or some other illness has stolen her away.
Many people long for a wonderful relationship with a mother who was never there for them emotionally. In all probability a wounded soul herself, she never really knew how to show love. Instead there was, and maybe still is, abuse, neglect, indifference, abandonment, or rejection. Emptiness fills the hearts of some who never even knew their mother.
For some women, the agony comes because of never having been loved as a mother. Some have never born children. A few mourn because they have lost a child or had a miscarriage. Others sorrow because they are not honored and respected by the children they did produce.
Whatever your situation, in your relationship with God, you can find the love you have been missing. Although the Scriptures describe Him as Father, they also speak of His tender, nurturing, protective characteristics that we often ascribe to a mother. Like the little child who runs to Mother for comfort when he falls and skins his knee, run to your loving Father. Let Him hug you close between His shoulders and carry you in His arms. Cry your tears and let Him wipe them away. Let His tender love and care enfold and comfort you in your time of pain and hurt and confusion. He longs to cover you with His wings.
PRAYER: Lord God in Heaven, I feel safe and secure as I picture myself huddled close to You as Your outstretched wing covers me. Thank You for the comfort and love that comes when I draw close To You.
WORDS TO PONDER:
UNDER HIS WINGS
Under His wings I am safely abiding,
Tho the night deepens and tempests are wild;
Still I can trust Him—I know He will keep me,
He has redeemed me and I am His child.
CHORUS:
Under His wings, under His wings,
Who from His love can sever?
Under His wings my soul shall abide,
Safely abide forever.
Under His wings, what a refuge in sorrow!
How the heart yearningly turns to His rest!
Often when earth has no balm for my healing,
There I find comfort and there I am blest.
CHORUS
Under His wings, O what precious enjoyment!
There will I hide till life's trials are o'er;
Sheltered, protected, no evil can harm me,
Resting in Jesus I'm safe evermore.
CHORUS
—William O. Cushing, 1823-1902
To read the more hymns, please visit the Hymns section of our website.
By Ann Shorb
©Copyright Ann Shorb, 2006
To learn how to have a personal relationship with Jesus Christ go to: www.ccesonline.com/4thingsgodwantsyoutoknow.htm.
For more information on how to grow in your walk with Christ, click: www.ccesonline.com/howtogrowinyourwalkwithchrist.htm.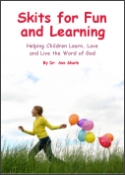 Skits for Fun and Learning
Skits for Fun and Learning is a collection of 15 puppet scripts and 5 articles on the subject of success with puppet ministries. The articles and scripts have been written by Dr. Ann Shorb and the book is available for purchase as a paperback, or as a PDF download.