PSALM 119:15-16 (NKJV)
I will meditate on Your precepts,
And contemplate Your ways.
I will delight myself in Your statutes;
I will not forget Your word.
Early in the morning the phone rang, and I could see that it was coming from my daughter's home.  It was strange that she should call so early when I just spoke with her late the night before and all was well.
"Hello," I said.  No answer.  "Hello," I tried again a bit louder.  Still no answer yet I could hear noise on the other end.
"Beep."
"Hello," I said repeatedly, thinking she must not be able to hear me.
"Beep . . . beep, beep . . . beep."
There was the muffled sound of someone laughing—or was it sobbing?  I couldn't tell.  Fear rose in my mind.  Why wasn't she answering?  In a flash my imagination went wild as the sounds and the beeps continued!  Did she need help?  Was she so distraught that she couldn't even speak?
To make sure the caller knew I was still on the line, I spoke even louder than before.  "Is anyone there?  Hello!"
The only reply was the "Beep . . . beep . . .," then, "click."  The line was dead.
I began to figure it out, and with my panic turning to laughter, I dialed her number and called my daughter's home.  The calm voice of my son-in-law answered.
"Good morning," I said.  "Has one of the kids been playing with your phone?"
"Yes, the baby was."
"Well, he must have hit the redial button because he just called me!"  I laughed and sighed with relief.
As I hung up the phone after our brief conversation, I couldn't helping wondering how many times our loving Heavenly Father hears someone call on Him, and when He responds the caller is playing around or too preoccupied to listen.  How often does He shout His answers as He attempts to get our attention?
Lord, I know there have been times when I've asked You for answers, then have been too busy to listen carefully to Your voice.  Forgive me.  Grant me focus and patience as I wait for Your reply.  And, Lord, thank you for my grandchildren and the lessons you teach me through them.  I enjoyed my first phone call from my grandson, even if it was a bit scary.
©Copyright Ann Shorb, 2010
Scripture taken from the New King James Version. Copyright © 1982 by Thomas Nelson, Inc.  Used by permission.  All rights reserved.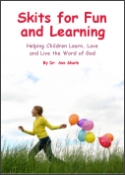 Skits for Fun and Learning
Skits for Fun and Learning is a collection of 15 puppet scripts and 5 articles on the subject of success with puppet ministries. The articles and scripts have been written by Dr. Ann Shorb and the book is available for purchase as a paperback, or as a PDF download.